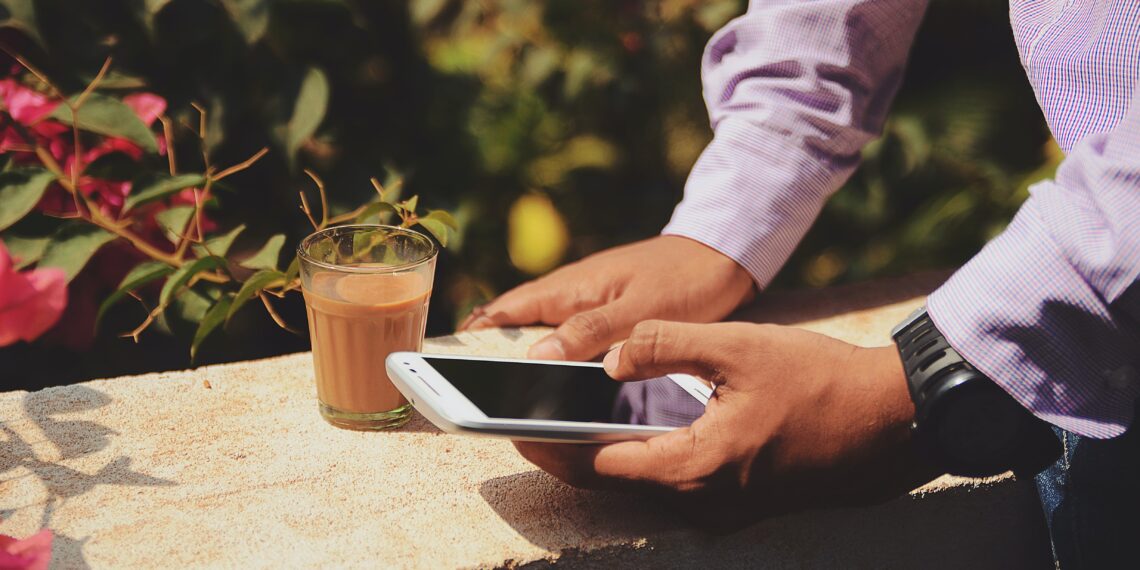 Learn Persian (Farsi) with Instagram
How much time do you study Persian during the week? Probably, once or twice a week? And I bet, it`s so hard to go back to studying every time, because you probably realize that after a few days you have forgotten some new words and need to study them again, and switching to Persian is harder.
The golden tip professional language learners and teachers give is to surround yourself with the language, immerse yourself into the culture of the language that you are learning. Don`t wait for the class to study the language, do it while you are scrolling your social media feed, or while watching your favorite TV show, or while listening to music.
But why is that so effective? Why is everyone talking about that so much? The answer is easy – you bring fun into learning, start learning the language with pleasure, continue doing your favorite things AND learn a new language at the same time.
Personally, I had a very classic, but nothing but boring learning strategy at university. And it was only when I took the learning process in my own hands that learning Persian turned into a pleasure rather than a torture. Read the full story of my way into Persian in this article.
Social media are a goldmine of content in your target language. And Instagram is probably one of the most effective. Take Stories, for example. A few less-than-a-minute videos or photos with just a few phrases to read is more than enough for your everyday practice. These little steps keep your language knowledge in a good shape.
But don`t make a mistake, I`m not talking about accounts FOR learning a language. They will give you a bunch of new words or phrases in one post but they don`t give you practice and probably won`t even give you any context to illustrate where and how to use this phrase. So, you will forget these new phrases in 5 minutes top.
So, I am talking about ordinary native speakers who may not be even popular bloggers but ordinary people sharing their life or thoughts or hobbies on Instagram. And that is the best opportunity to see the language in real action, how it is used by native speakers. Just remember, learning is not only about memorizing new words and grammar rules. It`s also about listening, reading and seeing words you already know as much as you need to feel confident enough to start using them yourself.
Of course, you may ask me, 'How do I find interesting Iranian accounts?' Well, I would recommend you to look for things you like through hashtags in Persian, like #سفر  or #آشپزی etc. That`s very important to like what you see, that will make you come back to them again and again. If you are not certain about what to look for though, you can check out the list below.
In this post, I am going to share with you some of my favorite Instagram accounts. I`ve tried to choose accounts from different areas – from lifestyle to cooking – so that you will have a wider choice. You may not find exactly what you like, but they can be a good start. So, let`s get started!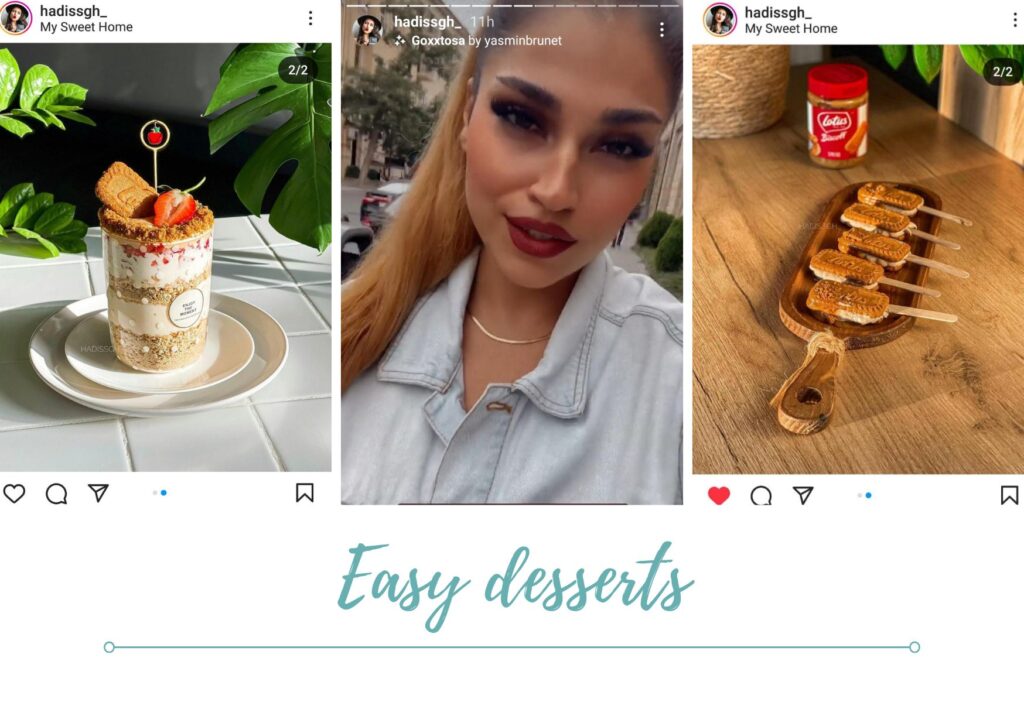 Meet Hadis. She`s is an Iranian living Baku, Azerbaijan, and she makes awesome, super easy desserts. At first, it was the desserts that made me follow her Instagram account, but then I started watching her Stories and discovered that she has a brilliant voice, and that is why I am introducing her here. It is pretty hard to find anyone on the internet who would speak slowly and clearly, and if you are not used to listening authentic speech, this is a good place to start.
I believe, any social networks is full of inspirational accounts that help us get through the day (and life) and feel good. Iranians are no exception here. In this kind of accounts you can find inspirational quotes, ideas for planning your day & life, tips on relationships and ways to start taking care of yourself.
Personally, I use Habit-Mabit and Nabaat a lot for short and easy content for my students. The good thing about them is that they post on a daily basis which means you will have an opportunity to practice Persian every single day.
Another account that I feel can be helpful and fun to follow is Zheen Magazine which posts funny stuff (that probably only a woman can relate to) that also gives an insight on the life of a young woman in Iran. I personally love the font used in the posts. It`s a good way to practice reading handwritten texts that can come in handy in Iran.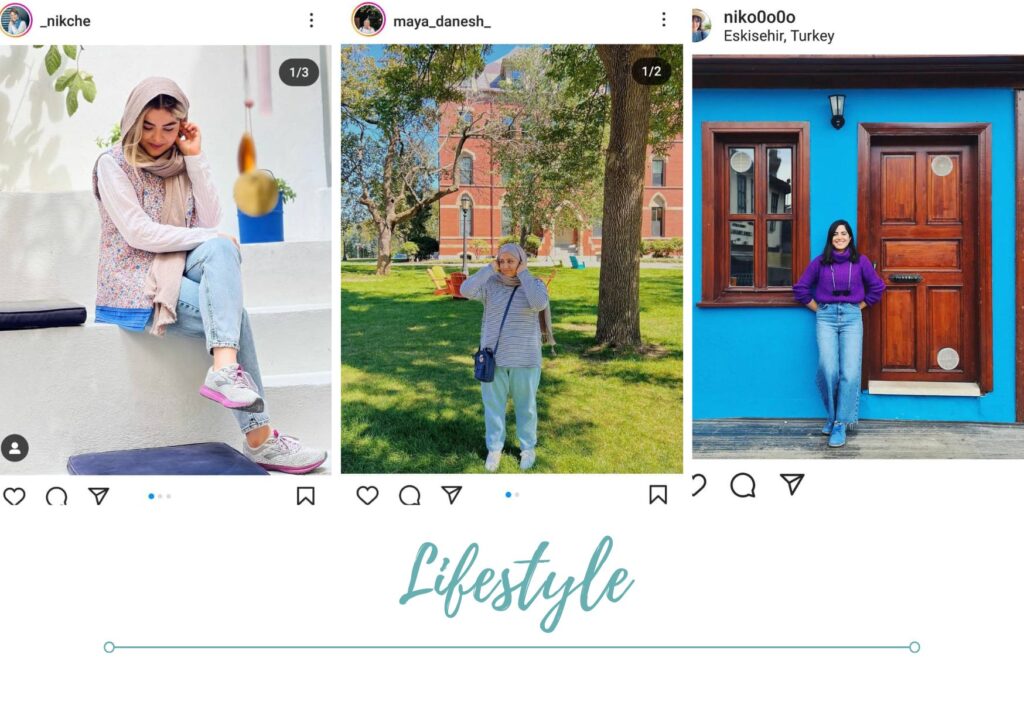 The most efficient way to consistently practice Persian using Instagram is follow a few lifestyle bloggers. Well, most of us are fozool at heart and are curious about what is happening in other people`s lives. And that is right what we need to encourage ourselves to put our language knowledge in use. Want to understand what is happening in your favorite blogger`s life? Read the caption!
Here I am introducing 3 bloggers who share mostly their daily routine. Mohaddese aka Nikche lives in Tehran with her husband, she makes cute accessories and studies English and that is what she mainly shares with her audience.
Unfortunately, the other two bloggers (Mahya and Nikoo) have very recently immigrated, so you won`t see daily Tehran life in their Stories anymore. The bright side is that they are full of new emotions making discoveries every day and they have become much more active posting on Instagram in order to share it all with their audience, and that`s what we could use, right?
So Mahya aka Maya Danesh goes to Fletcher School in the US,  while Nikoo is now based in Vancouver, Canada and teaches English remotely.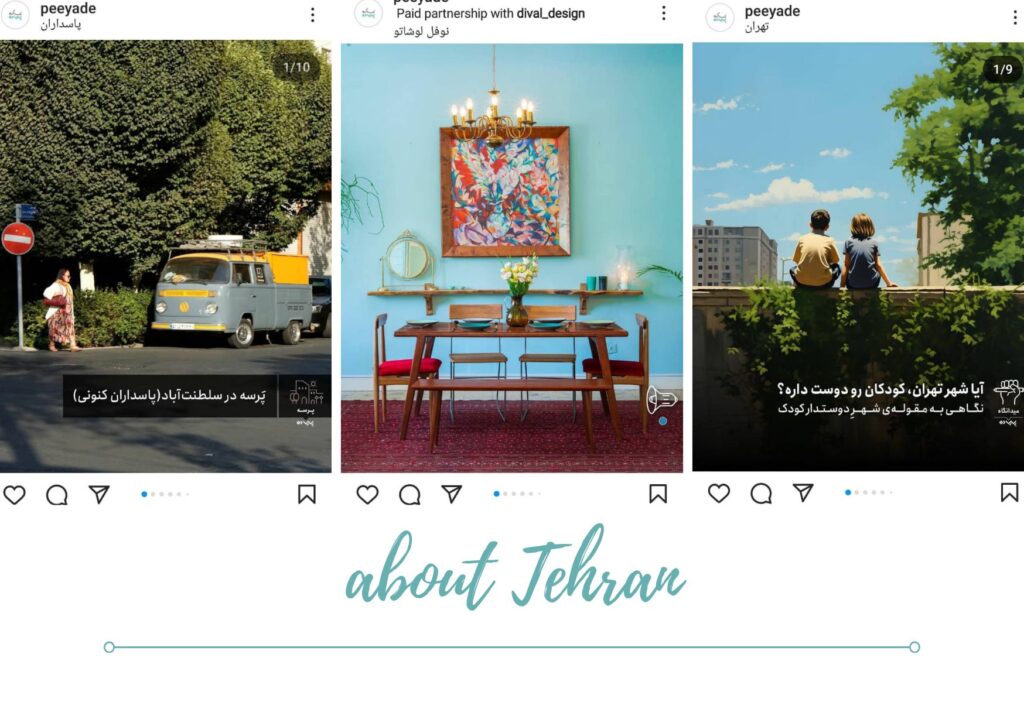 Tehran is an amazing place to explore. It has an endless list of historical and cultural sights, new restaurants and cafes pop up every month, and there is always a bunch of art event you can visit.
During the recent years, walking around Tehran and discovering different places in it (whether it`s a new art gallery or an old house with rich history), and I believe, Peeyade has made a huge contribution to it. For years, the team of Peeyade has been introducing cool new places, nice walking routes and bringing up city-oriented issues, trying to make Tehranis more familiar with the place they are living in, so that people would start caring for it more.
Mastering Iranian Cuisine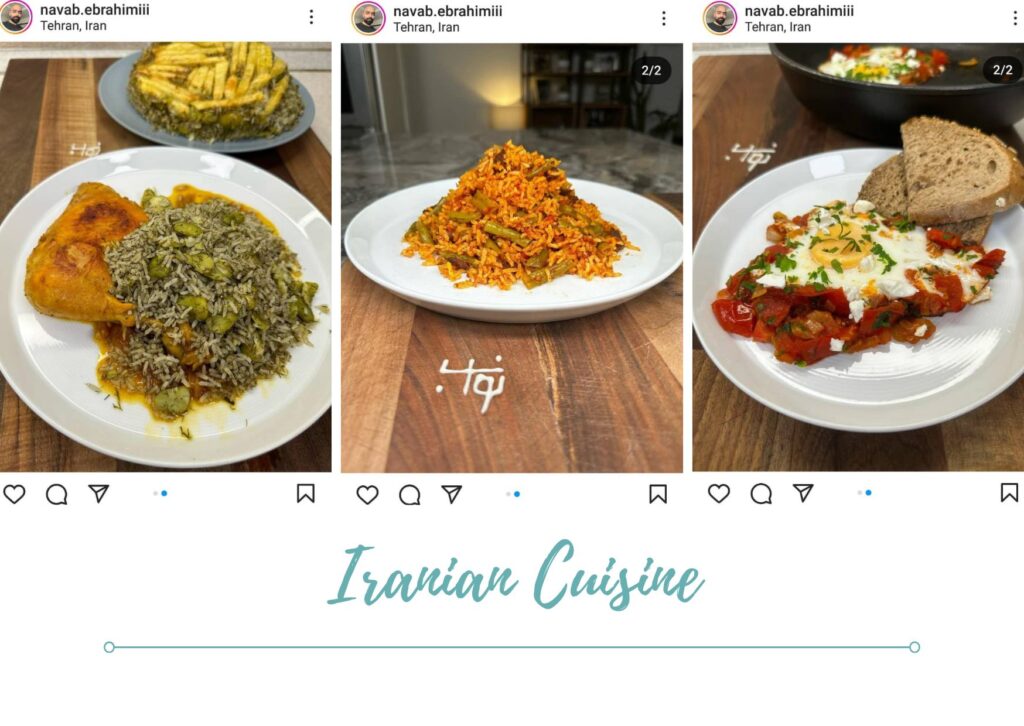 Food is something that connects all of us. Is there anyone who doesn`t like food? Navab Ebrahimi is a popular Iranian food blogger who shares new recipes almost on a daily basis! This guy actually makes Iranian food look doable! But even if you don`t find courage to make one of his Iranian dishes, it`s okay, he shares all kind of recipes – from fast food to other nations` cuisines.
By the way, if you are looking for a more categorized source of recipes, take a look at his YouTube channel. All his videos have English subtitles, so he gives no room for a mistake.
Last but not least, you are more than welcome to follow me on Instagram where I post Persian-language content like short vlogs in Persian, as well as useful phrases you can start using right away. Also, I post a lot of content about life in Iran and of course, Tehran.
I really hope that these recommendations will improve your language learning process and help you bring more authentic material to it, more consistency and definitely more fun! The only thing you need to remember is that if you want to achieve fluency in a language, you need to make it a part of your life and a part of your daily routine.
If you are already using Instagram as a tool for learning Persian, what are your favorite blogs? Share them in comments below, I would love to hear from you!