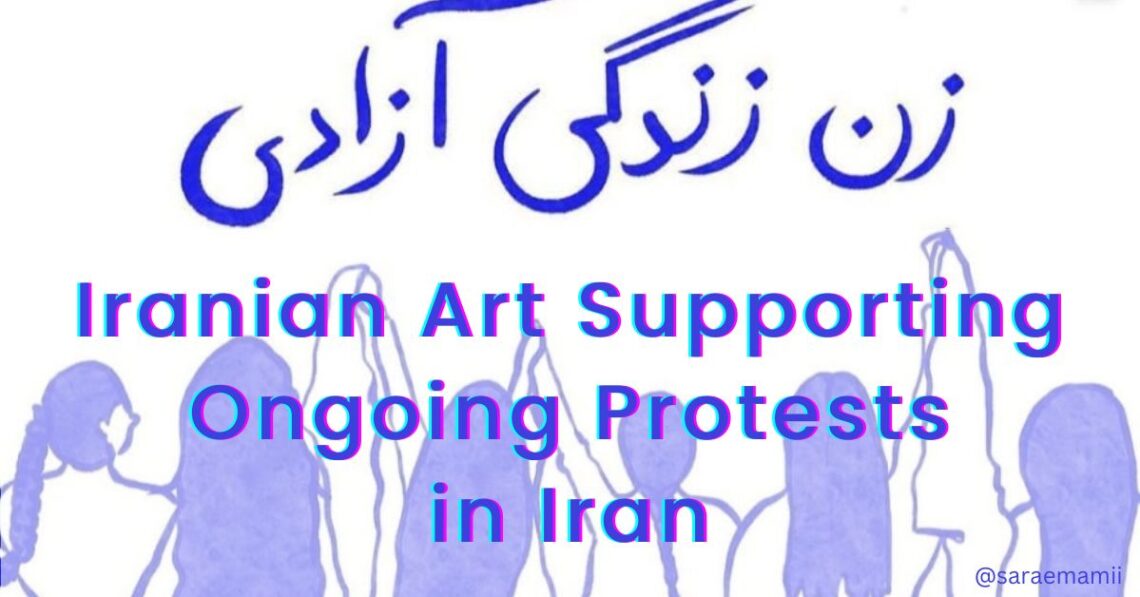 Iranian Art Supporting Ongoing Protests
There is no way you haven`t heard of Mahsa Amini and the protests in Iran that her death sparkled. It has been on the news and all over social media for a month now. Let me tell you the whole story first to have a full picture of what`s going on in Iran.
Mahsa (Zhina) Amini, a 22-year-old Kurdish Iranian girl, was visiting Tehran where she was detained by morality police. At the police station she passed out and went into coma, and two days later she died. The official reason for her death, a heart attack, was disputed by some independent doctors and witnesses who say that she was severely beaten before being taken to the police station.
From the very first days her death sparkled protests in Iranian Kurdistan first and then all over Iran. The largest protests have been reported on October 1st which were supported by demonstrations supporting the movement all over the world.
But in this post, I won`t go into detail about the protests, instead I will show you some art that these protests have sparkled. All of the images below were made by Iranian artists both inside and outside Iran.
I have to say though that Mahsa Amini`s death was only the last drop which Iranians just couldn`t take anymore. Today Iranians go to the streets not only to mourn for Mahsa, but rather mourn for everyone who has ever been harmed by the government and to demand more freedom. Although in the first days the main chant was 'Woman, Life, Freedom' (زن، زندگی، آزادی or zan, zendegi, azadi), and it may look like a feminist protest, but it`s not just that. The struggle now is not only for freedoms for women, but also for a better future for all Iranians which – according to them – is not possible under present regime.
What fascinated me in these protests (apart from the unbelievable bravery of people) is the visual aspect of the movement. As I have mentioned before, these events are constantly discussed on social media under #MahsaAmini and #مهسا_امینی and many Iranian artists have created brilliant pictures and videos that would support this struggle. I have been interested in Iranian visual arts for a long time, and present events just once again show what mastery they have achieved, taking into account all the limitations and difficulties they may have in Iran. And in this post, I want to share some of the most interesting pictures and video art that I could find.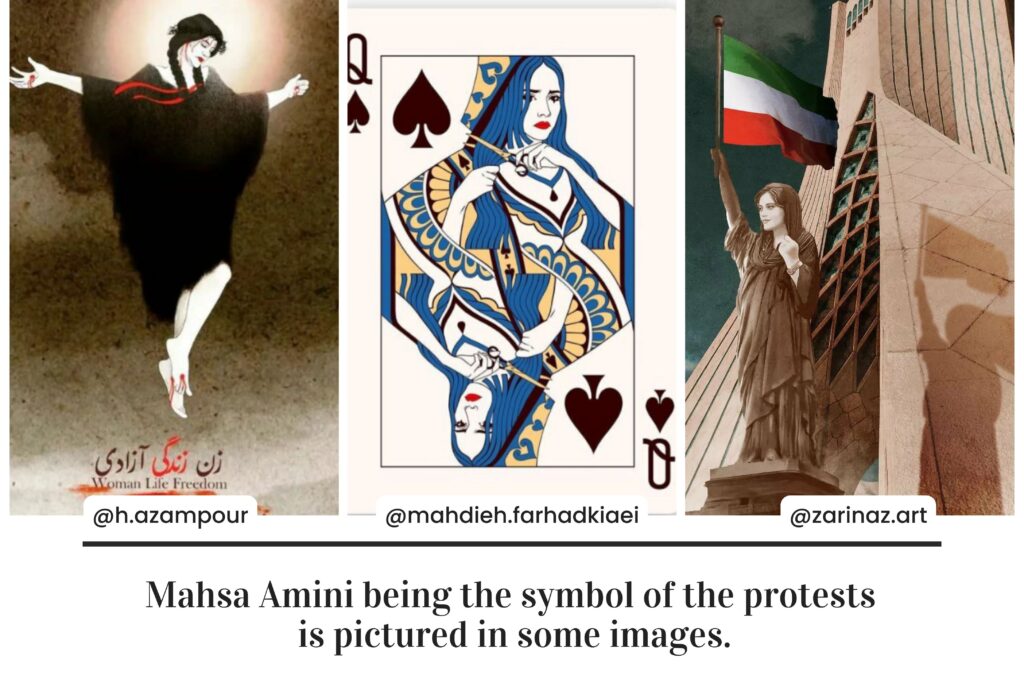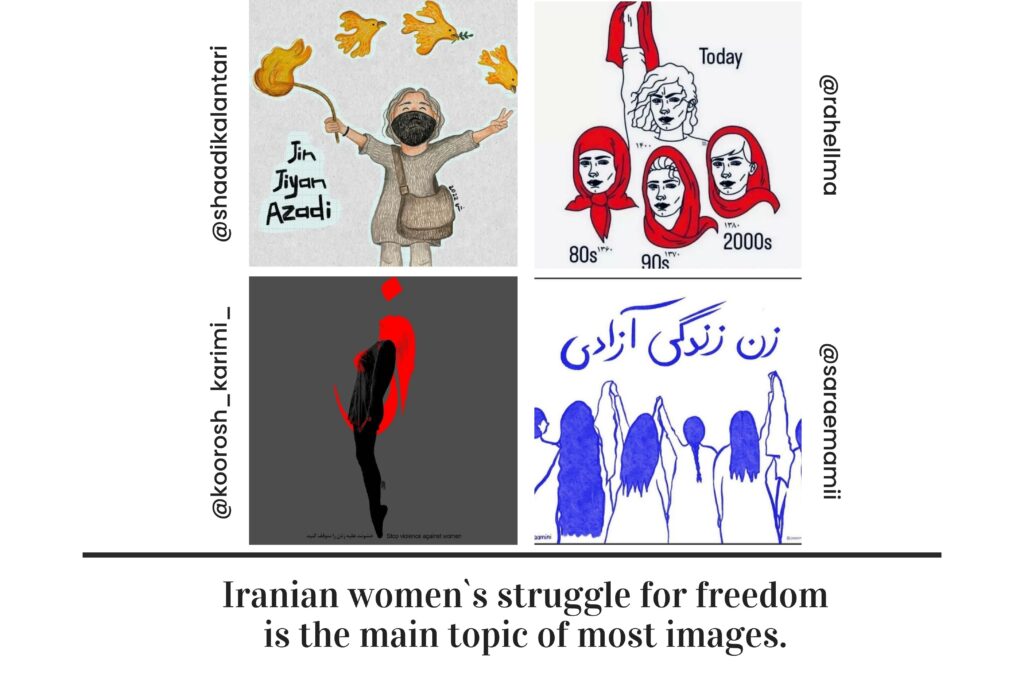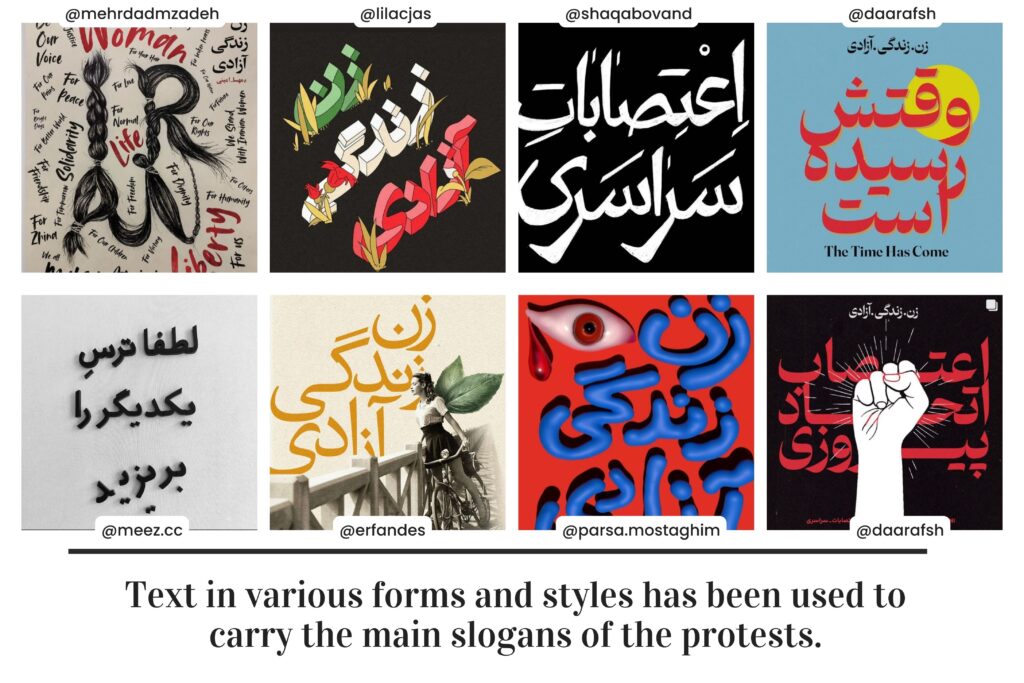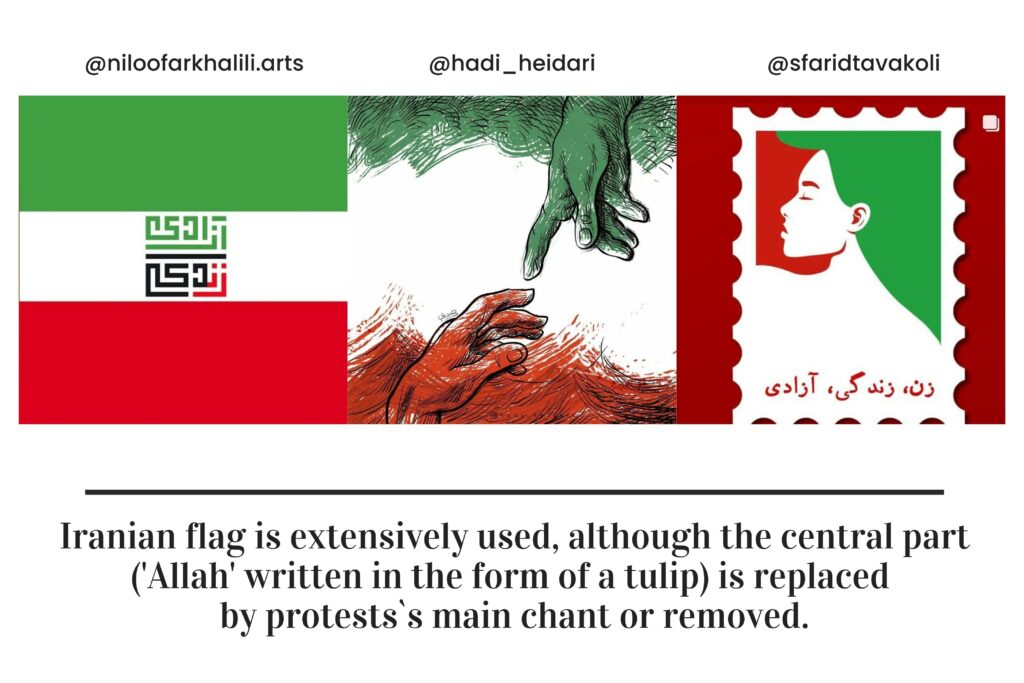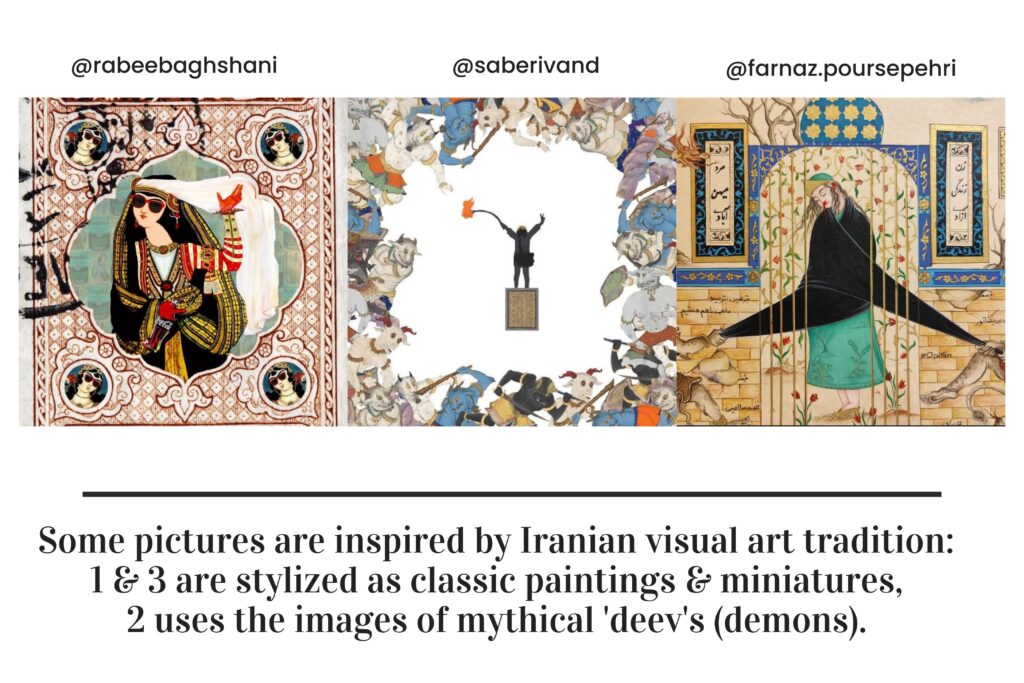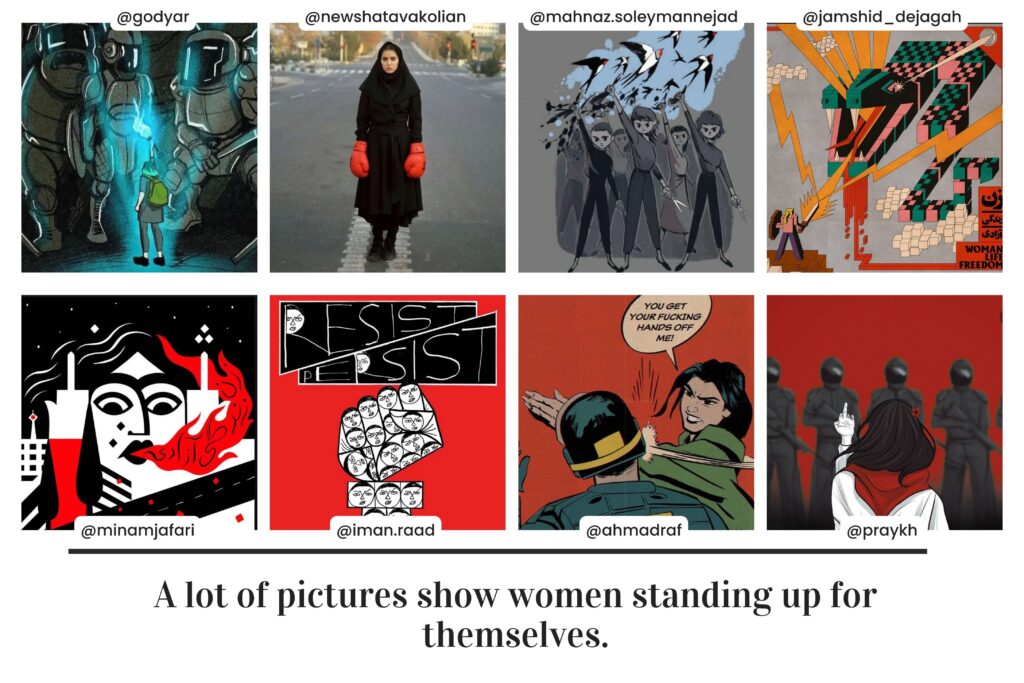 ---
Here are a few images that deserve a special introduction.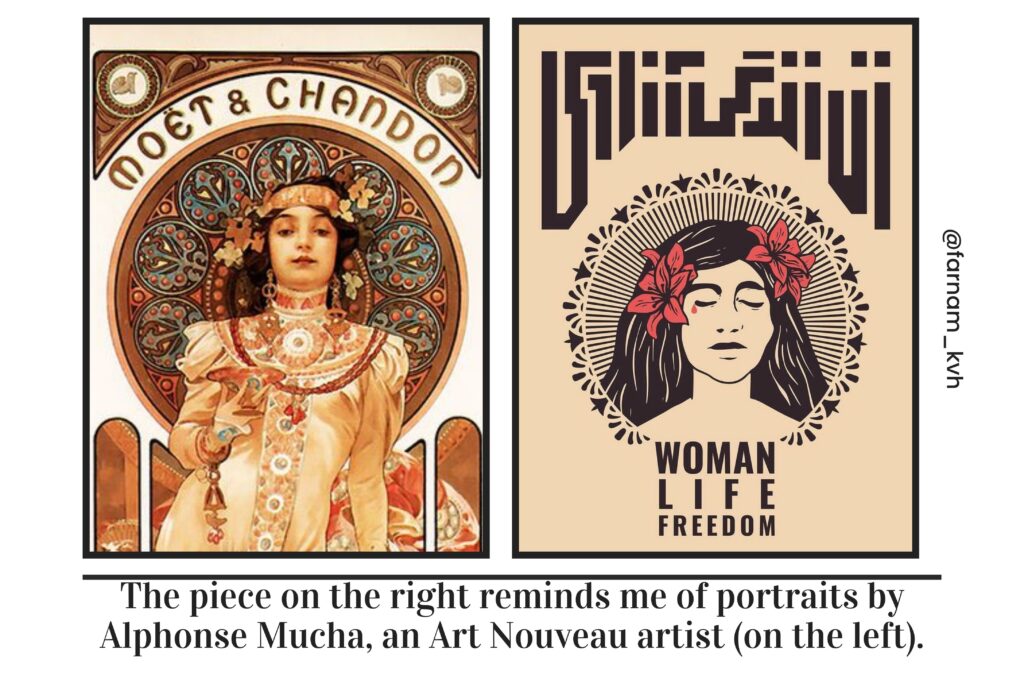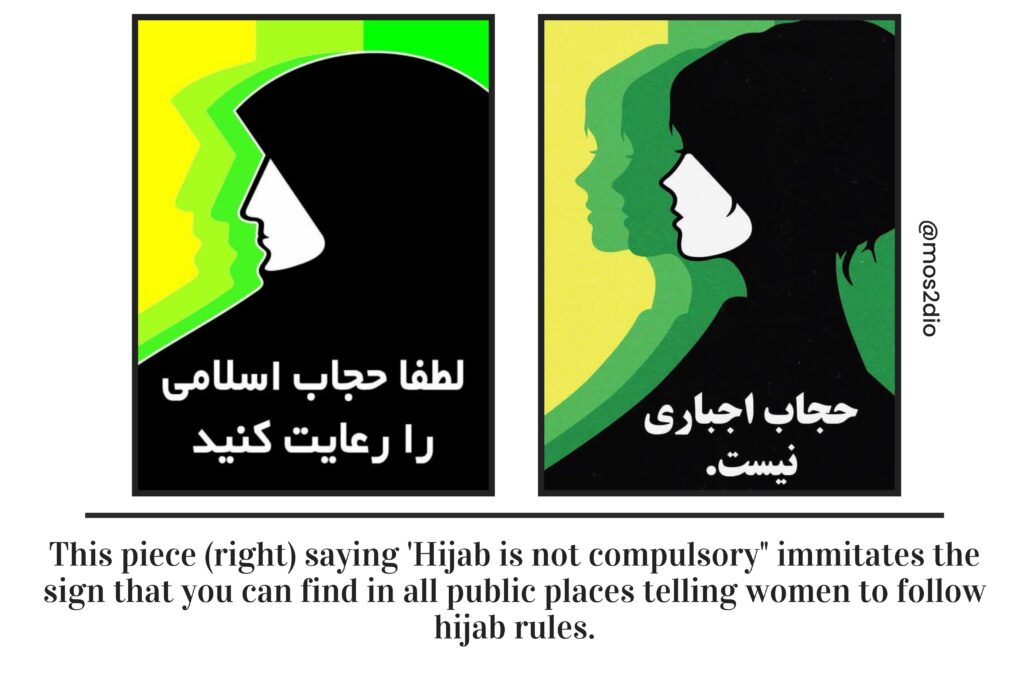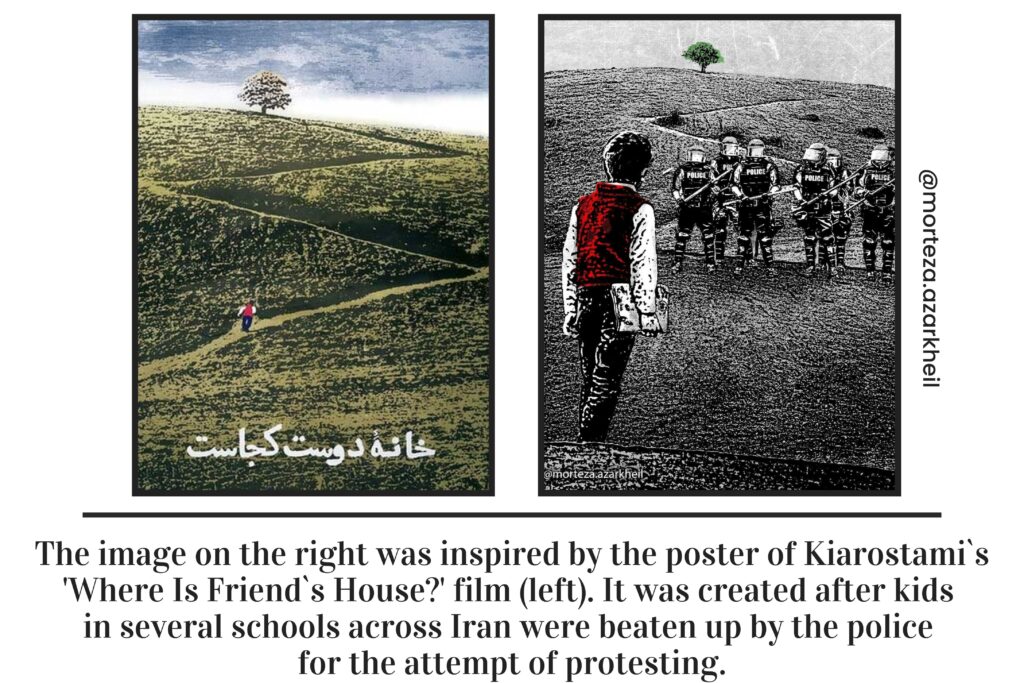 ---
Finally, video artists has done incredible job too. Below I`ll share some of my favorite video art related to the ongoing protests in Iran. For more picture and video art, I would recommend to check out @iranianpopart on Instagram.
I just love how Iranian artists turn classic Iranian art into something fresh and modern like in the two videos below.
View this post on Instagram
View this post on Instagram
The video below was inspired by a photo by Newsha Tavakolian that you have already seen above. The photo was taken years ago which just proves that the struggle Iranian women have been in is not new at all. At the end of the video you can hear a part of the song called 'Baraye'. An Iranian YouTube singer Shervin Hajipour wrote it based tweets Iranians posted in the first days of the protests explaining what they are fighting for ('baraye' literally mean for, for the sake of). The song instantly became a hit what led to Shervin`s arrest. Fortunately, he was released a few days later.
View this post on Instagram
And finally, there a video that shows Iranian women that form the Iranian flag and are dancing in front of an army of police. The song for the video is performed by a legendary traditional Iranian singer Mohammad Reza Shajarian who passed away a few years ago.
View this post on Instagram