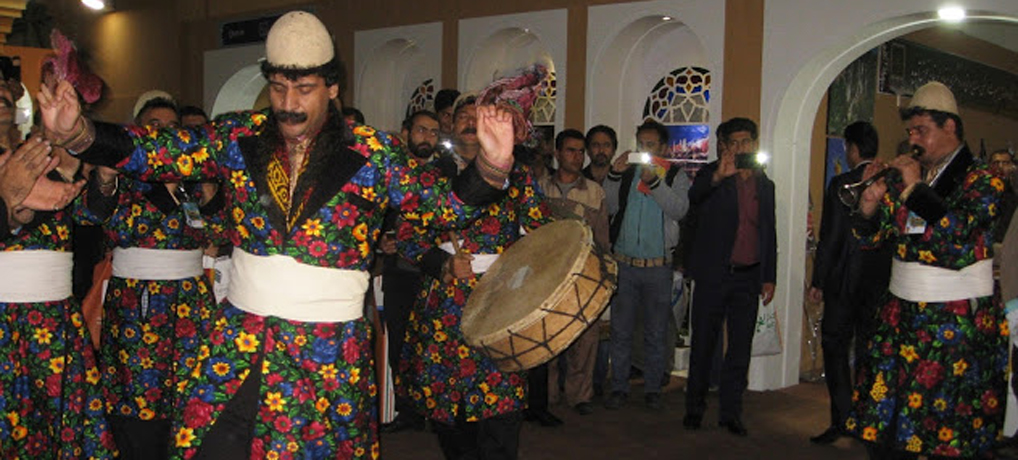 Guide to Events in Tehran: The International Tourism Fair
Tourism Fair is a very colorful event – there are lots of dancing, music, singing and other authentic stuff!
If you happen to be in Tehran in February, make sure not to miss the International Tourism Fair which is usually held in February. It can be especially useful, if you are in the beginning of your trip, and let me explain why. One of the halls, and the most colorful one, I must say, is usually dedicated to Iranian provinces. And visiting it you can see the whole Iran at one glance and decide which parts seem more interesting to you. 
Less popular places can be found here a well.
Just like this traditional arabic guest house "mozif"
that can be found in Khuzestan province.
What I especially like about the fair is that the organizers always try to introduce and give more space to less popular provinces like Kordestan, Lorestan, Chahar Mahal and Bakhtiyari, Sistan and Baluchestan. Most of them are really underestimated by tourists and have more to offer than you may expect.
Moreover, you can get tons of information and even organize your trip around Iran. Every province stand will offer you brochures on the sights of the place and useful maps. Some of them are even in English. You will also have an opportunity to see traditional clothing, hear traditional music and, if you are lucky enough, taste some traditional sweets of the province. A part of the exhibition is dedicated to travel agencies, some of which offer tours around Iran, for example, to nomads` settlements or deserts.
Even if you are spending the final days of your trip to Iran, at this exhibition you will see how many spectacular places you haven`t seen here and maybe even come to a decision to visit Iran again! 
At the fair you can get familiar with Iranian handicrafts.
Next destination is decided upon – in spring I am going to Tabriz!
It was chosen as the capital of Islamic tourism in 2018, by the way.
Anyway, at this fair you`ll definitely have a great time! 
Some other cities around Iran organize similar exhibitions introducing the culture of different provinces, but, of course, at a smaller scale. They are held mostly in winter, just before travelling season begins in Iran.