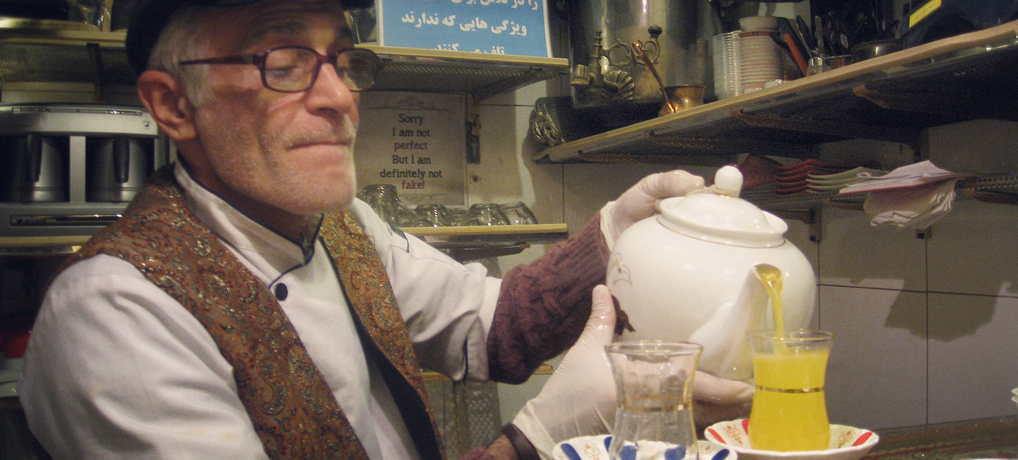 Ultimate Guide to Tehran Grand Bazaar. Part 2: Food
Snacks & Lunch Options at Tehran Grand Bazaar
A great variety of snacks and food are available at the Grand bazaar. While walking through the alleys of the bazaar you will occasionally see snack stands (mostly at the intersections) selling nuts and seeds, lavashak, steamed beetroot and bananas.
Moslem Restaurant
If you search for a place for lunch at the Bazaar on the Internet, the most frequent suggestion will be Moslem restaurant which is situated on the main street of the bazaar right on the right from Sabzeh Meydan. 

It actually serves good food (and is famous for its tahchin that is rice baked with chicken) and is extremely popular among Iranians and offers a good number of Iranian traditional foods. However, tourists might feel confused entering this restaurant. Let me describe how thing work there. First you stand in a line (that moves quite fast), then entering the restaurant you will be given a tray, and while moving to the cashier where you actually order the food, waitresses behind the counter will put everything from salads and mast to drink on your tray. When I visited this restaurant for the first time, I thought that maybe a salad, a drink and a mast are granted for free as soon as you order food, but at the cashier I realized my mistake and had to empty almost the entire tray and change some of the items. Then you finally are at the cashier where you should order food and pay for it. So by that time you`d better be ready to make your choice, because there is a line of hungry Iranians right behind you! As soon as you pay for the food, you take your tray, the receipt and go find some place to sit which is also a problem here. There are several long tables, and you should spot someone who is finishing up to take their place. Although, you can always ask waiters for help. They`ll take your receipt, find a free corner and bring you your food. So, my recommendations for you is that if you decide to have lunch at Moslem, decide what you are going to order and be aware of what is the procedure there. And enjoy your tahchin!


Sharaf-ol-Eslami Restaurant
The second popular restaurant at the Grand bazaar. Resembles Moslem a lot. At the entrance you stand in line, then order at the cashier (including drinks and everything) and go find a table. Although you are not rushed to order or something, and the place seemed not as crowded as Moslem restaurant to me. The reason is that it is situated inside the bazaar, near Imam`s mosque. (Every shopper will tell you how to get there).


Kebabsara-ye Shamshiri
Another popular eatery is located in the far left corner of Sabzeh Meydan.
Among other lunch options include:
–

          

Ash stand (right underneath Moslem restaurant)
–

          

Falafel  (on the other side from the bazaar)
–

          

Fast food (on the other side from the bazaar)
Haj Ali Darvish Teahouse


This tiny, but amazingly authentic teahouse is believed to be the oldest teahouse (over 100 years) and smallest shop (only 2 sq.m.) at the Grand bazaar. 
During last few years it has become so popular among foreigners that its owner Kazem  Mabhootian made some brochures about his teahouse and souvenir coins which he gives out to foreign guests. He has also signed-up to Instagram and Facebook where he posts photos of his guests. Another interesting thing here is that the price for a cup of tea is different for different people – for old friends of customers it`s 500 tumans, for friends of friends – 1000 tumans, but normal price would be 2000 tumans for a cup of good brewed tea. Mabhootian offers several types of tea every day, including herbal tea. Visiting Haj Ali darvish teahouse can be a good ending to your trip to the Grand bazaar!
Have a great day, guys! And see you soon with more useful tips about Iran!