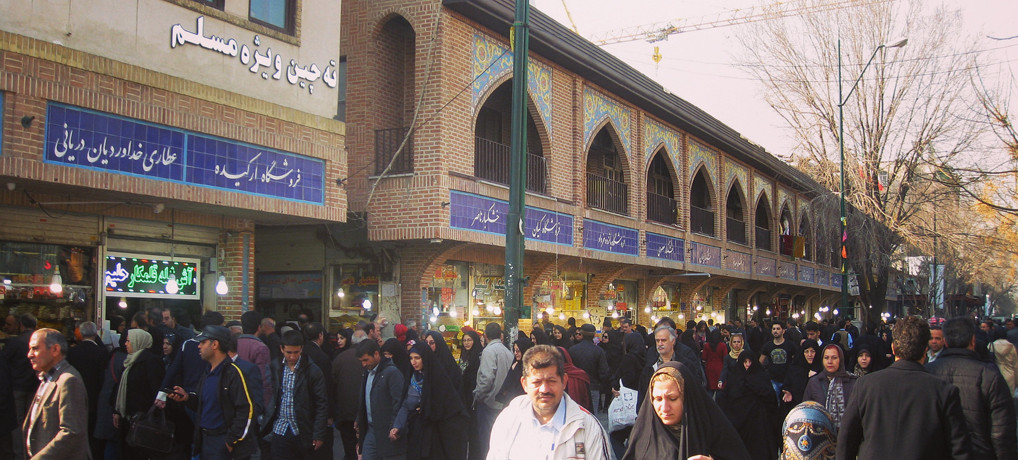 Ultimate Guide To Tehran Grand Bazaar
If you are reading this post, you might have heard a lot about bazaars in Iran. Any city you go in Iran, its bazaar will be one of the main sights for tourists to visit. Why so? Well, the bazaar is one of the oldest institutions in Iranian culture. It embodies traditional lifestyle, traditional architecture and, most of the times, houses city`s main mosque – Jame` Mosque.
Tehran Grand Bazaar (or bazar-e bozorg in Farsi) (as it`s obvious from its name) is one of the biggest bazaars in the country (after, maybe, the one in Tabriz). Its different parts and alleys are dedicated to different type of goods, and one can buy almost ANYTHING in here – like Iranians say "anything from chicken`s milk to human`s life". Here is just a part of what one can find here: carpets (both handmade and machine-made), jewelry, clothing, kitchen utensils, some handicrafts, textiles, nuts and pulses, spices and so on and so forth.


However, for tourists, going to a bazaar might be quite a challenge, as it has one important characteristic – chaotic nature. Bazaars are formed by narrow, intertwined alleys which are full of people moving in different directions. And it`s pretty easy to get lost there!
The Grand Bazaar is like a city inside a city, and you will definitely need a guide to take you through. Actually, I decided to write this post after many of my friends who visited Iran simply were afraid to go in there because they could get lost. I hope that this post will help you overcome this fear and visit the heart of Tehran, its Grand Bazaar. So sit tight and get ready to dive in!
Before we begin there is an important thing about the bazaar – don`t expect to see a beautiful, clean, completely renewed and touristy bazaar that mostly sells handicrafts like the one in Istanbul or in Isfahan (the one on Naghsh-e Jahan Square). This bazaar has a completely practical function – most Iranians come here to do their shopping, so don`t expect to see lots of handicrafts, you`ll see lots of clothing, textiles and kitchen utensils instead – things people need for their household. Also, it is extremely crowded and hectic, and sometimes it`s hard to stop to take a picture or look around – the wave of people and porters with huge trolleys won`t let you do it. 
Every time I visit the bazaar, it seems so miserable to me. There is just a small part of it that has been renewed. Most of it remains falling into decay and just ready to collapse! Iranians don`t care about renewing their shops or making the whole thing look nice. If you look up at the second floor, you`ll see dirt, broken windows, a maze of wires and old aircons – just lots of them! On the other hand, this is how Iranians are – put up things together so that they don`t break apart – no matter how it looks…


But let`s get back to our guide!:) 
How to get there. The best way would be to use the subway – you`ll need Panzdah-e Khordad metro station. It is also situated right opposite Golestan Palace. And together they will make a good one-day plan. 
When to go there. Everyday except Friday, all day long (on Thursdays till noon). 
I won`t give you any precise route. I`d rather tell you about some highlights and places worth visiting for you to choose where to go. Here are some of my recommendations.

 
1. Imam`s Mosque (also known for its pre-revolution name Shah`s mosque) – one of the oldest, most beautiful and significant parts of the bazaar. Although the mosque itself is not as spectacular as some famous mosques in, say, Isfahan. It is quite new, as well – it was built during Qajar era around 100-150 years ago.
2. The bazaar of carpets. I believe that if you don`t want to buy a carpet, visiting the bazaar won`t worth it! The bazaar is the center of carpet shops; there are dozens of them here. You can find almost any type of carpet here – machine-made and handmade, silk, woolen and a mix of these two, tribal, city-made, cheap, expensive, small, huge…. It`s just impossible to not choose one! Most carpet shops are located in the bazar of shoemakers, or bazar-e Kaffash-ha. For that you should enter the bazaar from the central entrance right behind Sabzeh Meydan. Take the main alley and soon you will see carpet shops. Great tip here – at the entrance there are always carpet sellers looking for clients. Just accept their invitation to see their shop. Most of the times you won`t be pushed to buy anything, but will be a) guided to the bazaar of carpets, and b) you`ll have an opportunity to check out what they have to offer. Most of them are friendly enough to give you a tour around the bazaar, offer a cup of tea and even their friendship!
3. Around the bazaar there are several places with nice architecture like Timche-ye Hajeb od-Dowleh and Charsough-e Bozorg. Unfortunately, the last one remains unrestored. 


4. Iranian-style exchange market. Wanna see what Iranian dealers or Iranian Wall Street look like?)) Be sure to come to Sabzeh Meydan around noon!
Final, but, maybe, most important tip! 
While going to the Grand bazaar, having a plan or a map of highlights of the bazaar is a big advantage. But as soon as you visit the must-sees and buy your carpet, just follow the flow of the crowd and let yourself get lost in the alleys of the bazaar! Become a part of it! Feel the inner life of the bazaar! You won`t regret it! And if you get tired, shoppers will always help you to find a way out!
All places mentioned in this post can be found on this MAP.
For more photos follow me on Instagram @stranger_in_tehran!
See you soon with a post about snack & lunch options at Tehran`s Grand bazaar!