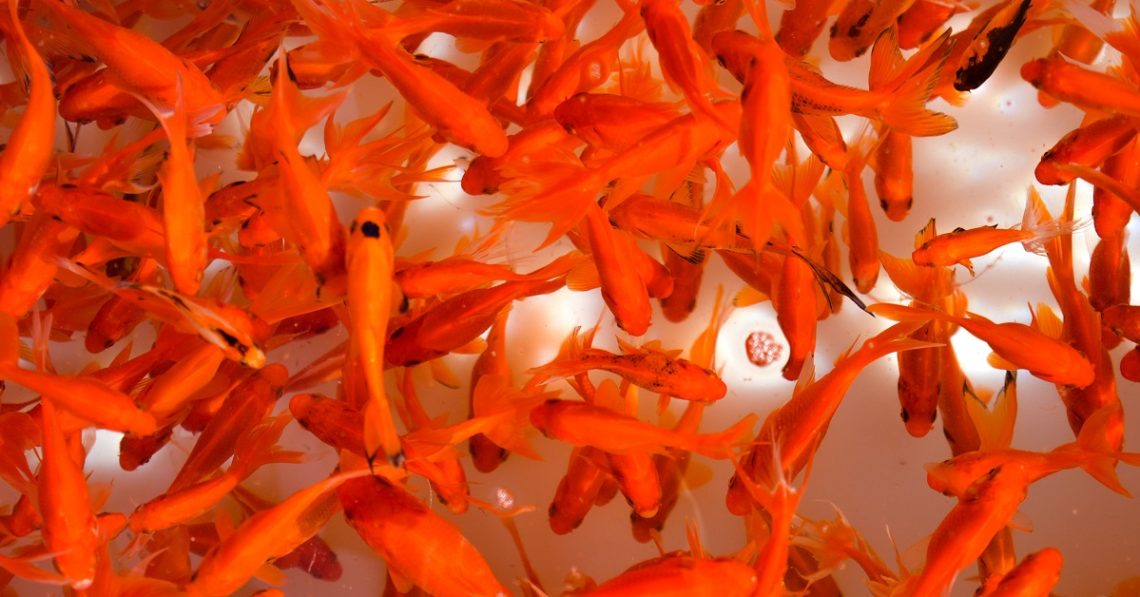 Nowruz: Persian New Year Traditions
Nowruz is the biggest and oldest holiday celebrated in Iran. It takes a month of preparations and two (!) weeks of celebrations. So it might be a good idea to celebrate with Iranians.  In this post, you will find out what Nowruz is and get familiar with Persian New Year traditions.
Nowruz (Norooz) is as old as Iran itself. Somehow it is a symbol of Persian culture. The tradition of celebrating Nowruz unites Iranians from the Caspian Sea to the Persian Gulf. Nowruz means a new day. This is the day when a new year starts in Iran and corresponds with spring equinox which marks the start of spring.
In 2020 Nowruz is scheduled on Friday, March 20th, 7:19:37 am (Tehran time) and is determined by the location of the Sun towards the equator.
A Bit of History
Nowruz has been celebrated for thousands of years (of course, not in the way it is celebrated now and not with the same name). But back then it bore a practical meaning. It marked the first day of spring as well as the start of a new agricultural cycle. As people`s lives were dependent on the results of their agricultural work back then, Nowruz started a pretty important phase in people`s lives. However, it hadn`t been officially celebrated until Zoroastrianism when it was formed as a holiday, based on local traditions of the spring festival. Iranians owe most of their New Year traditions to this ancient religion. After Islam came to Persia, many rulers tried to prevent people from celebrating it as it presents a celebration of life that opposes Shia Islam based on martyrdom, tragedy, and death; but none of them succeeded. During the centuries it changed a lot, lost its religious meaning, but remained, although just as a New Year holiday.
It`s worth mentioning that Iran is not the only country that celebrates Nowruz. People traditionally celebrate it in countries surrounding Iran, like Afghanistan, Azerbaijan, Georgia, Kazakhstan, Tajikistan, Uzbekistan, Turkmenistan, and of course, all countries with big Iranian diaspora. So if you live in the USA, France, Germany or Sweden, you might want to check out on local celebrations of Nowruz.
Nowruz Preparations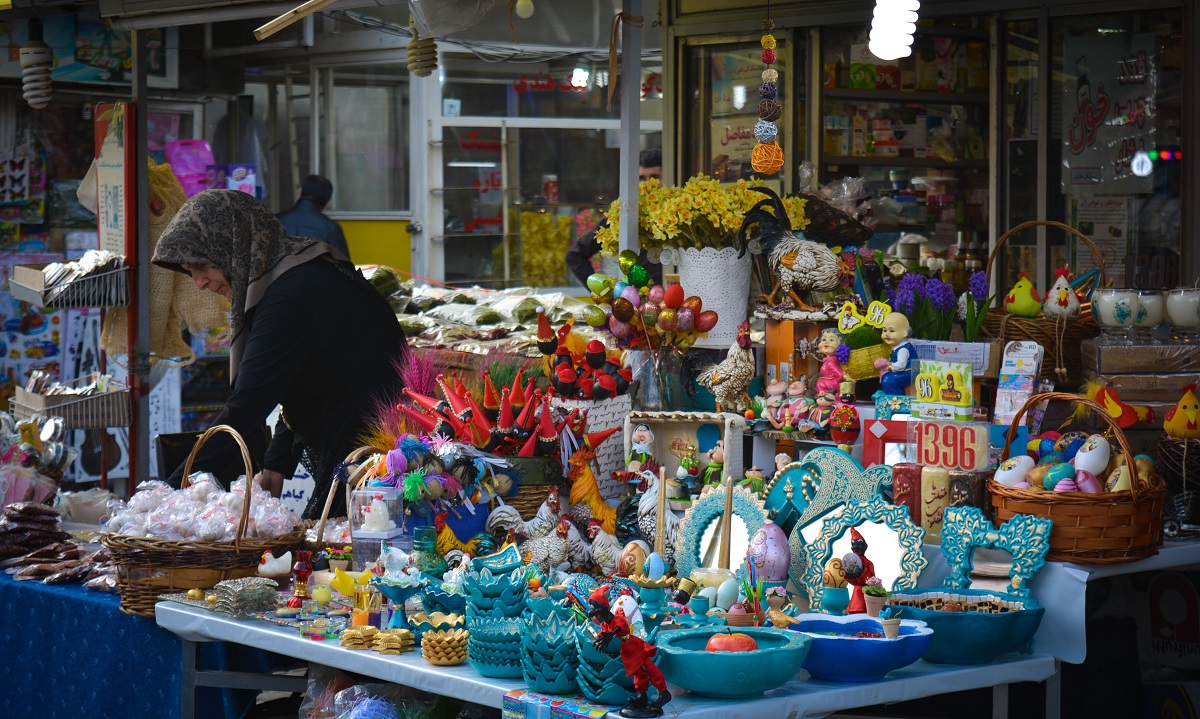 Most Iranians spend these days shopping. They believe it brings luck to buy some new clothes for a new year. Moreover, Nowruz holidays is a period of constant family gatherings, so they need some new stuff to show off in front of the family:) Also, March is the time of season change, and many shops are trying to sell their previous collections and start a year with a new summer collection. That`s why most stores have great discounts on their stock. Shopping may be good entertainment these days if only you are OK with overcrowded streets. Otherwise, stock up your fridge a couple of weeks beforehand and stay at home until Nowruz comes and Iranians set off on a trip or settle down at home.
If you want to feel the spirit of the upcoming New Year holidays at the fullest, head to Tehran Grand Bazaar. Not only is it the best place for shopping, but also allows you to see the oldest neighborhood in town packed with small mosques and mansions.
Weeks before Nowruz are also a good time for khaneh-tekani, or cleaning up at home. People wash the windows and clean the farthest corners of their houses. Some go as far as throwing away some pieces of furniture or even changing the whole furniture set.
When the new clothes are ready to be put on, and the house is sparkling clean, it`s time to prepare a Nowruz composition called haft-sin. Well, Christians have their Christmas trees, and Iranians decorate a haft-sin. Describing haft-sin decorations may take a whole post, but in short, it`s a composition on a coffee table with seven basic items starting with S. But they can be easily accompanied by as many items as you wish. Women compete with each other at creating the most beautiful and stylish haft-sin composition, manufacturers produce new designs of haft-sin sets every year, and you will see a haft-sin in almost every shop, museum, and even in public places like a railway station, airport or metro stations.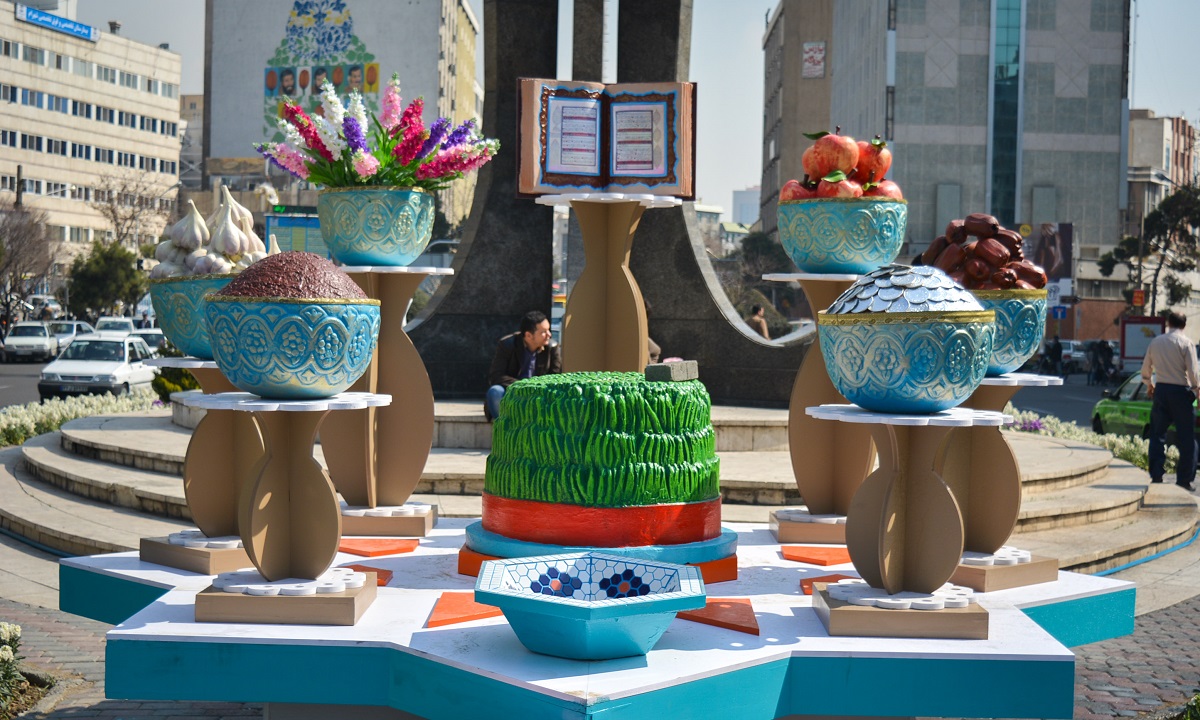 A huge haft-sin composition at Fatemi Square in Tehran
Chaharshanbeh-Soori
Nowruz is not a one-day celebration like New Year`s Eve or Christmas. Two more significant traditions are accurately performed by all Iranians: Chaharshanbeh-Soori and Sizdah-Bedar.
Let`s start with Chahrshanbeh-Soori which comes before Nowruz, on the eve of the last Wednesday of the year. Not much is left from numerous customs performed on this day. Originally, people used to gather in the streets, make a fire and jump over it that would purify them and take away all their illnesses.
However, nowadays it resembles warfare. Instead of fires, there are young people and children throwing firecrackers under passersby`s feet or cars. On this night, medical institutions report a lot of accidents that happen because of that. That`s why many people prefer to stay at home to stay safe. Some offices even close earlier to send everyone home before the dark.
How Do Iranians Celebrate Nowruz?
In Iran, the celebration itself is very different from how people celebrate New Year in other countries. There is no countdown to midnight, no champagne to mark the first minutes of a new year, no fireworks in the sky above the city. And here is why. In Iran, the time of the beginning of a new year changes every year because it`s determined by the position of the Sun. That`s why one year can start at 10.58 pm while the next can start at 7.13 am. So many people don`t even bother to wait for the exact minute when a new year start.
What most people do is they gather with their closest family members on the first day of the year for lunch or dinner and just spend time together. No parties with friends, Nowruz is a strictly family holiday. And from the day 1 start family visits called eyd-didani or did-o bazdid.
Eyd-didani (family visits)
For many families, Nowruz holidays are the only opportunity to see their extended family whom they may not see much during the year. Those who live away from their home town, go back home to spend time with their family. Many Iranians who live abroad even travel back to Iran on that occasion to see their relatives.
The common rule is that during the first days of the year younger members of the family visit older family members while on the second week of the New Year holidays older family members repay the visit. A bit of practical advice for a young family in Iran – don`t bother to clean your house and buy fruits for the first days of the holidays – you`ll spend the first week visiting relatives, and guests will come later during the holidays.
A Nowruz family visit itself is not very different from any other family visit. If you are a guest, you will be served several cups of tea with several kinds of tiny Persian sweets, nuts, and fruits. The only difference would be that hosts insist that you eat more, more eagerly than usual. So what people do during family visits is just eat and talk, talk, talk. If you come at noon or in the evening, you are more likely to be asked to stay for a meal as well. Of course, if you can handle it after a huge amount of fruits, sweets, and nuts!
At the end of the visit, children are granted eydi, new banknotes which people usually put in between the pages of the Quran.
If You Are in Iran During Nowruz Holidays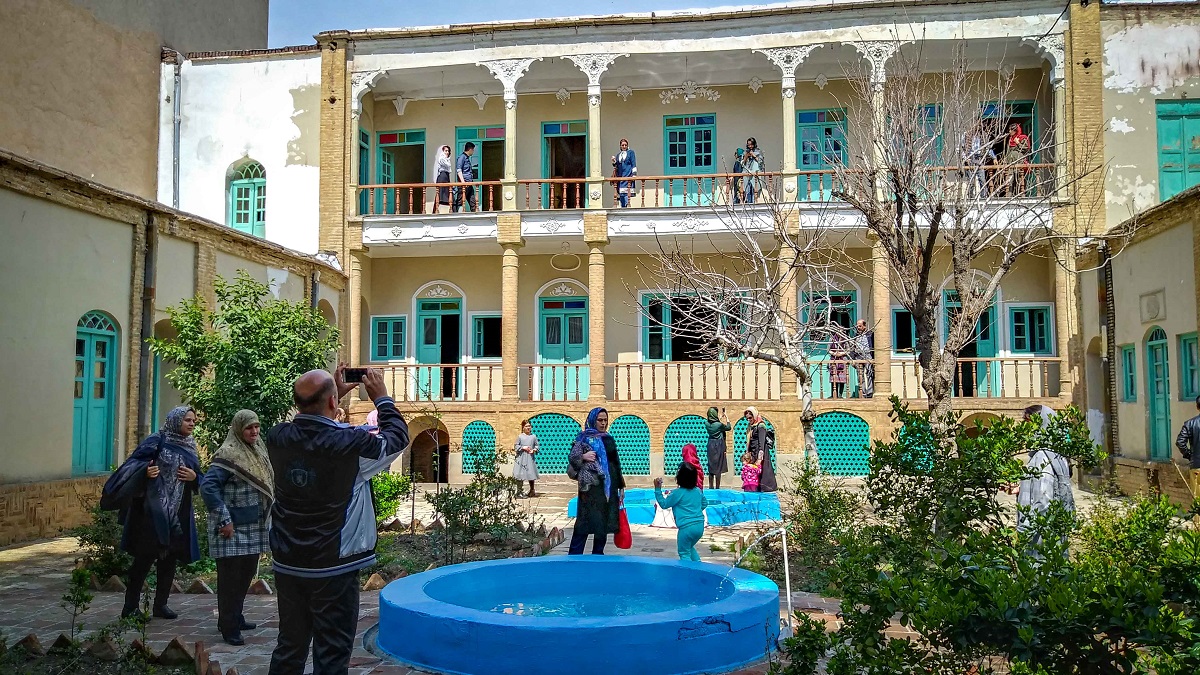 Although most Iranians spend these long holidays traveling, there are a lot of special Nowruz events held in every city, but I would recommend staying in Tehran as other cities become overcrowded during the holidays. Although it may be a good opportunity to feel this Nowruz vibe, you may face serious problems finding tickets for popular destinations or accommodation.
As soon as Nowruz comes (which is March 20-21 to be exact), it`s time to go out. Tehran becomes deserted, the air clears up, everything starts blossoming and it`s a pure pleasure to walk in a park, go to a museum or on a city tour in such beautiful weather. The first 13 days of the year are the only days when air pollution is close to zero in Tehran. It would be a pity to not use this time for exploring Tehran on foot. I think this time of the year is the best time to explore Tehran numerous palaces  and parks. Some museums offer special programs and exhibitions for the Nowruz holidays. However, hardly any of them properly announce them.
Moghaddam House  is one of my favorite places in Tehran. It`s a small, but very colorful mansion (partially it dates back to the 19th century) with a beautiful garden right in the middle of the city. In spring, it`s probably the best spot to take a photo for your Instagram.
If you get bored in Tehran (which I really doubt it, because places to see in Tehran are just endless!), you can take a one-day trip outside Tehran. There are a few places worth visiting like Qom, Qazvin and small villages like Shahrestanak which are full of fruit and nut gardens already starting to blossom. And if the weather is sunny, you will definitely enjoy a walk in nature. Although there will be another opportunity to unite with nature, Sizdah-bedar.
Sizdah-bedar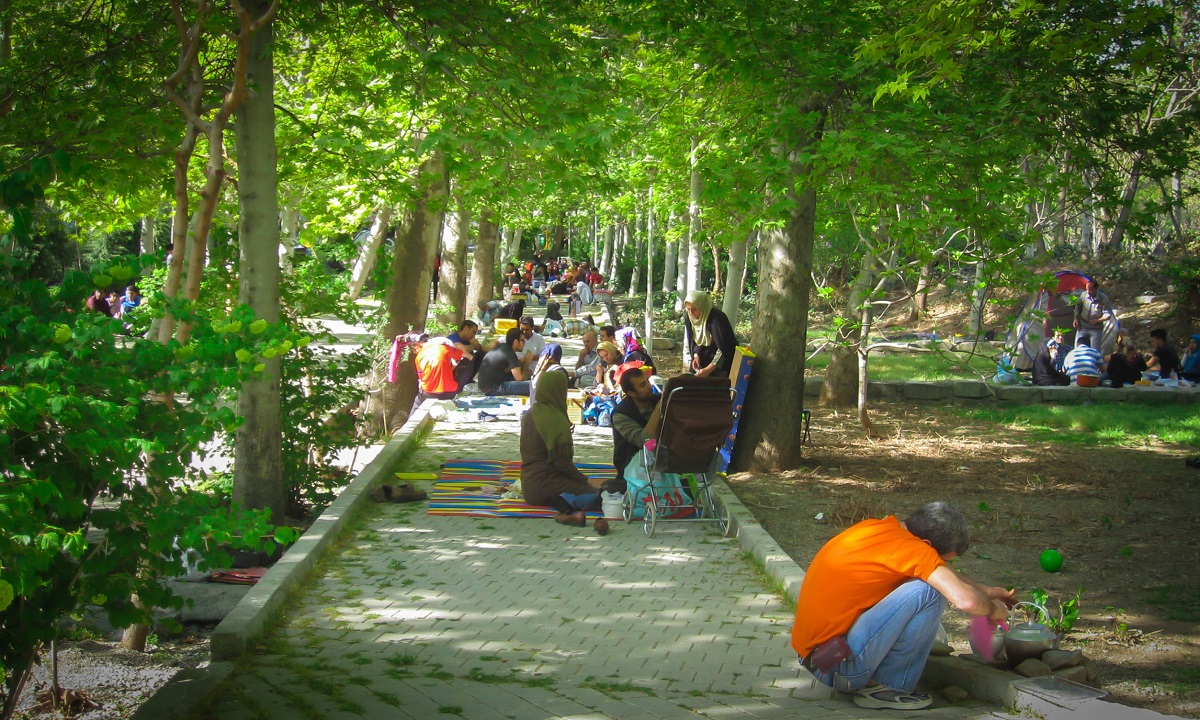 Officially, the country is off on Nowruz holidays for only the first 4 days. However, Iranians practically don`t work for two whole weeks. The end of the holidays is marked by another celebration – sizdah-bedar ("thirteen – out of the door"). On the thirteenth of Farvardin (the first Iranian month), Iranians go to parks or nature outside the city for a picnic. They believe 13 is an unlucky number, so they take it out of their houses. Officially it`s called Nature Day and perfectly shows what it is about – Iranians unite with nature no matter what. Even relatively cold weather and rain can`t stop them. I remember how several years ago we took a ride to Chitgar Park on sizdah-bedar. Although it was raining, it still was packed with tents – people would get out of the tent only to check on their kebabs.
This occasion is also used for taking redfish to a lake or something and also making knots on sabzeh (greens that are a part of the haft-sin) so that dreams come true. This is more popular among young girls who are willing to get married.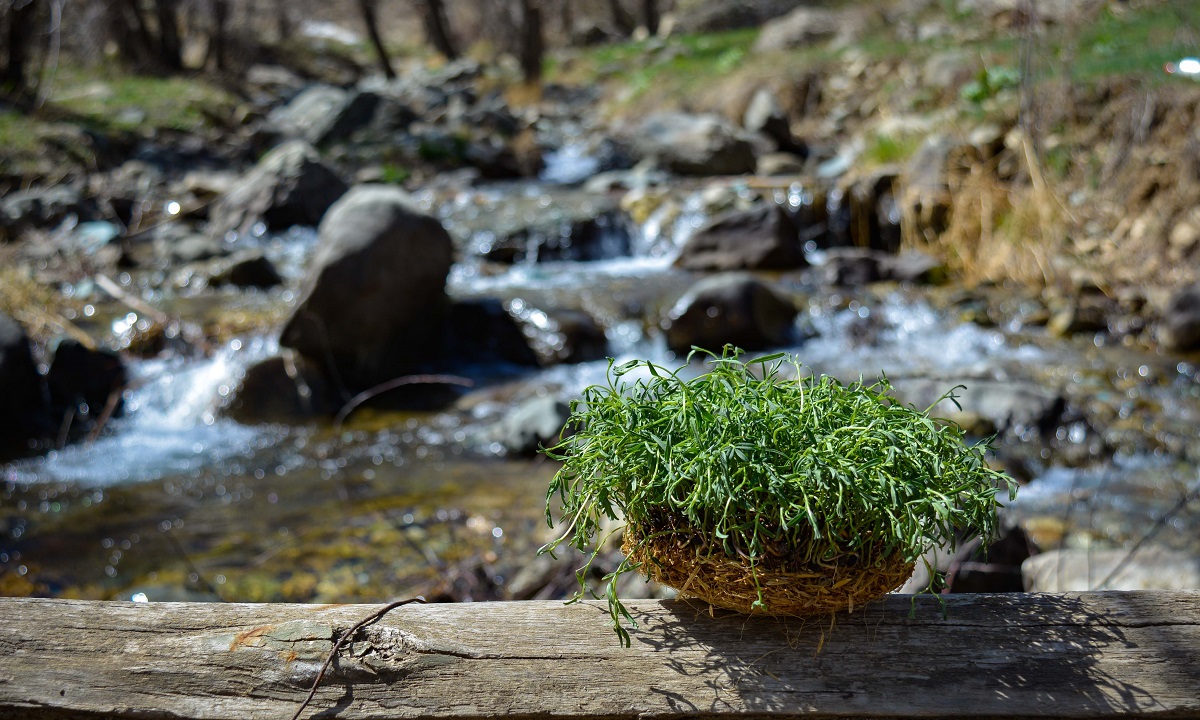 Things get back to normal only on the next day. Schools and universities open for a new semester, people get back to work till the next holiday season.
Have you ever taken part in the Nowruz celebrations? What was it like? What was your favorite part? I`d love to hear about your personal experience!