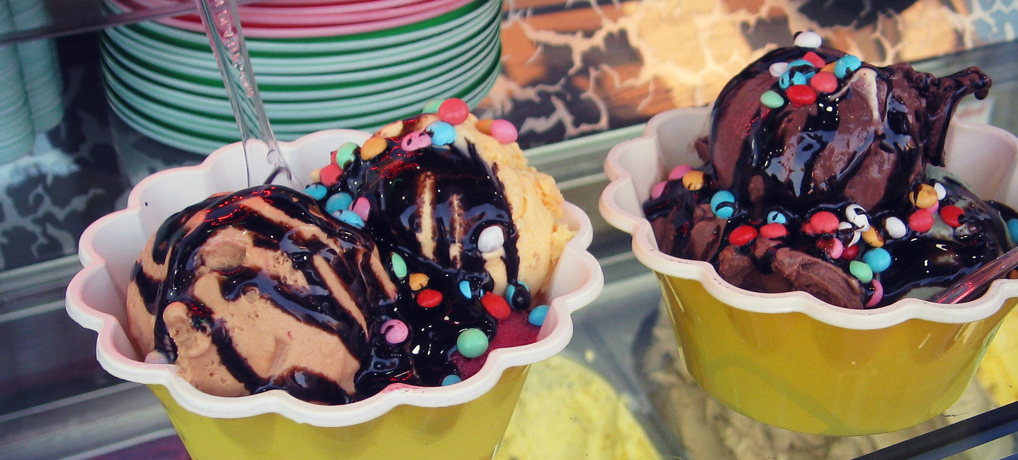 What Is the Best Ice Cream Shop In Tehran, or Ultimate Guide to Iranian Ice Cream
Summer is coming to an end just like my ice-cream challenge. Summer heat has given way to autumn chill, but the sun still warms us up, and you still can give summer delights one last shot! And I hope my recommendations will help you to choose the best! Let me remind how it all started. It was around July when Tehran heated up to +40. The heat was getting unbearable. And to survive it we decided to check out some popular ice cream shops in Tehran. After searching different sources in Persian, asking friends for recommendations and just browsing various ice cream places on the web, we came up with this list. It took us a couple of months to try each and every place, and now I`m going to present you top 6 ice cream shops in Tehran (find all of them on the map at the end of the post) and make sure to read up to the end to find out about the best ice cream dessert you can get in Iran!
Through centuries Iranians developed their own unique recipes of this summer delight. They used what they had in abundance, such as saffron, pistachios, dates, sesame and various types of nuts. And it will be a huge mistake to come to Iran and fail to try its delicious ice cream! Below you can find the best place for each type of Iranian ice cream which, believe me, you won`t be able to find anywhere else in the world!
Bastani Baba Rahim and its Maajoon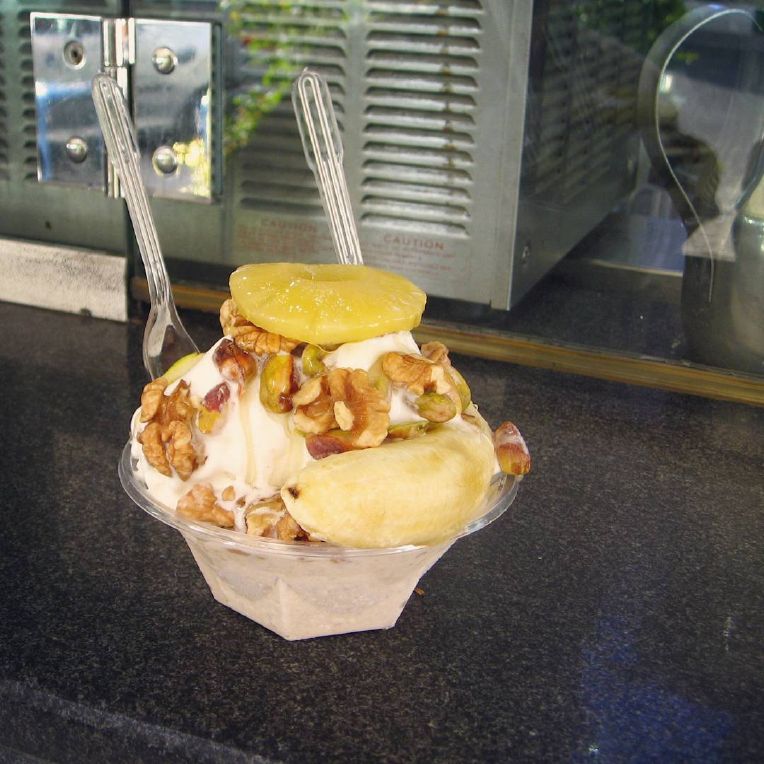 This popular ice cream shop is located in Sattar-khan Street – which can be called food paradise as you`ll find lots of places to eat there! Baba Rahim`s special is Maajoon which is a kind of ice cream made with dates, sesame and various nuts. But what is so special about Baba Rahim`s one is its presentation. If you decide to try it, you`ll be granted a bowl of maajoon ice cream (2 scoops+1 scoop of plain ice cream) decorated with a handful of pistachios and walnuts, a half of a banana and a piece of pineapple. I strongly recommend you to share as even one portion of this ice cream is super filling!  
Although Maajoon is the most popular ice cream here, Baba Rahim has an impressive range of various fresh juices, ice cream-based drinks, desserts and traditional ice cream like saffron one, faloodeh and ab-havij-bastani. 
Address: Towhid Sq., Sattarkhan St., opposite Namazi (Kowsar) St., near Shadi St., 245
UPDATE 2019 There is another popular ice cream shop – Ali Baba – in a super authentic downtown neighborhood where you can try superb maajoon which contains no less than a dozen ingredients including of course lots of nuts. You can find it on the map at the end of the article.
Mansoor and its Saffron Ice Cream and Faloodeh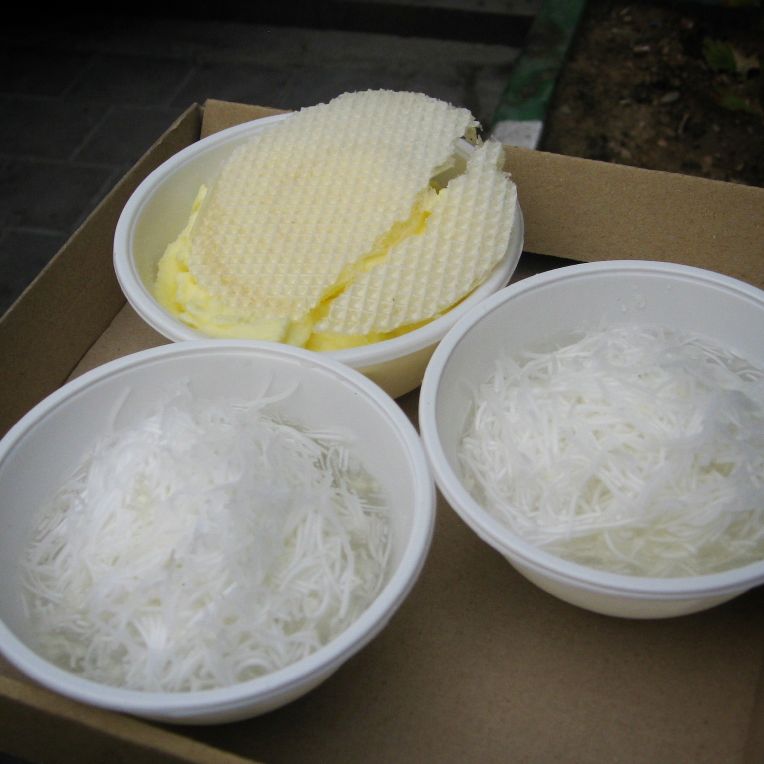 Mansoor ice cream shop is a very popular ice cream shop in Vanak area that offers only traditional Iranian saffron ice cream (bastani sonnati in Farsi) and faloodeh which origins from Shiraz. But if you don`t have a chance to go to Shiraz to try it, Mansoor will be a good choice! From the first sight it might not seem very impressive – it`s small, there are lots of bees flying around and even a couple of beggars, but it just proves its popularity.
Address: Vanak, Molla Sadra St., after Shiraz intersection
Ice Pack

Ice Pack (popular in Iran with the same name) is a kind of soft, drinkable ice cream mixed with fruits or something else (depending on the flavour you choose), smarties and chocolate syrup. For official shops go to 
Ice Pack website
, otherwise, just get one from almost any ice cream shop.
Just Ice Cream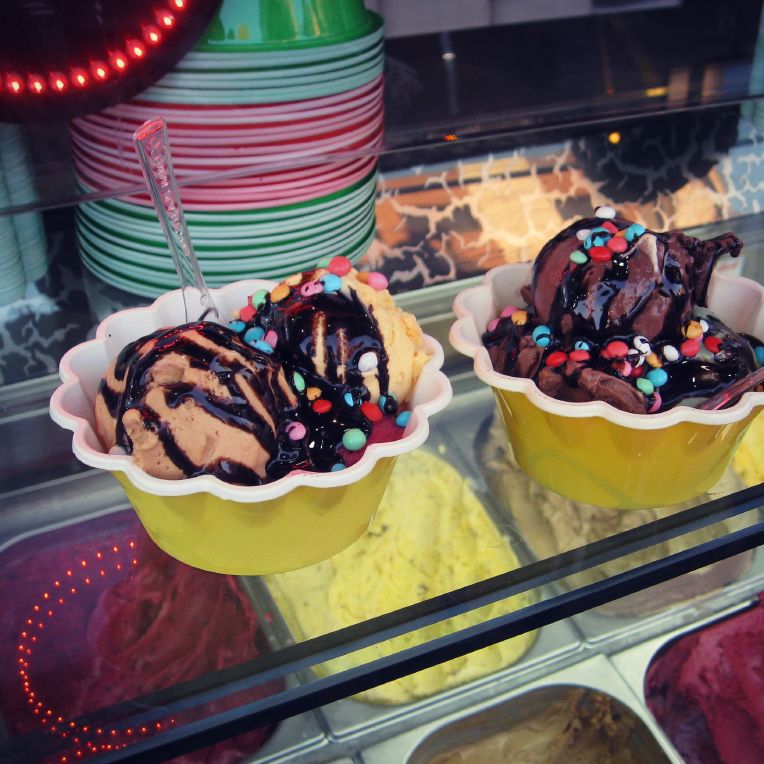 If you have already tried all kinds of Iranian traditional ice cream, or feel homesick and want to have something familiar, you can find normal ice cream which is served in scoops and in various flavours everywhere. Actually, there are so many ice cream shops that it`s really difficult to choose just one.  
My personal favorite is Haji Baba, a chain ice cream shop that offers delicious ice cream in different flavours and traditional saffron ice cream. They have almost 50 branches all around Iran. You can find the nearest on their website (available in English). You`ll see many shops selling Italian gelato, although, according to many, the best one is sold at San Marco ice cream shop near Gheytarieh Park.
Ab-Havij-Bastani
َAnd now we have finally reached the most delicious part of the article – the best ice cream dessert you can find in Iran! Ask any Iranian and the answer will be ab-havij-bastani! Ab-havij-bastani is a glass of fresh carrot juice with a piece of saffron ice cream floating in it. It combines the freshness of carrot and sweetness of ice cream. And it becomes magic when the ice cream starts melting! You can buy this summer delight literally in any fresh juice or ice cream shop, because it`s extremely popular and relatively cheap. 
Below you`ll find
 that will help you find all the ice cream shops mentioned in the post! 
Enjoy!
PS That would be interesting to know what kind of ice cream you liked! So feel free to write your faves in the comments below!