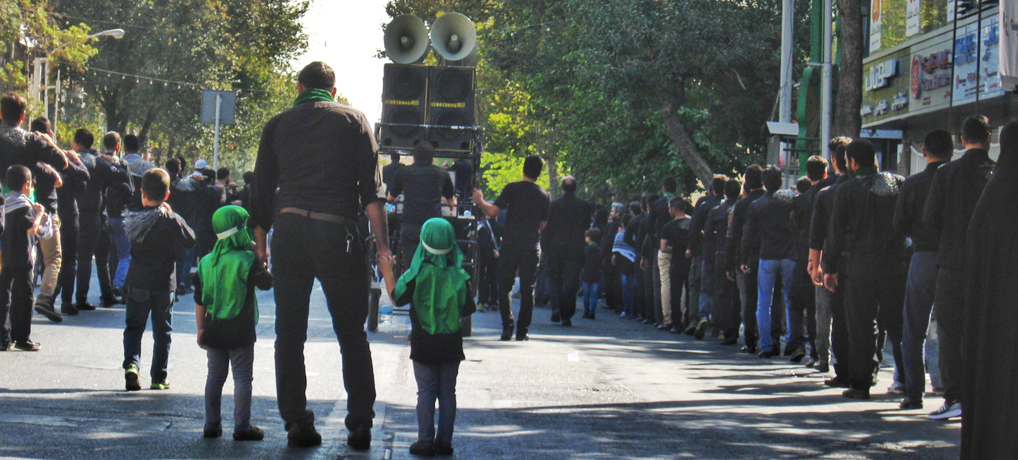 Ashura in Iran: What to Do on Ashura in Tehran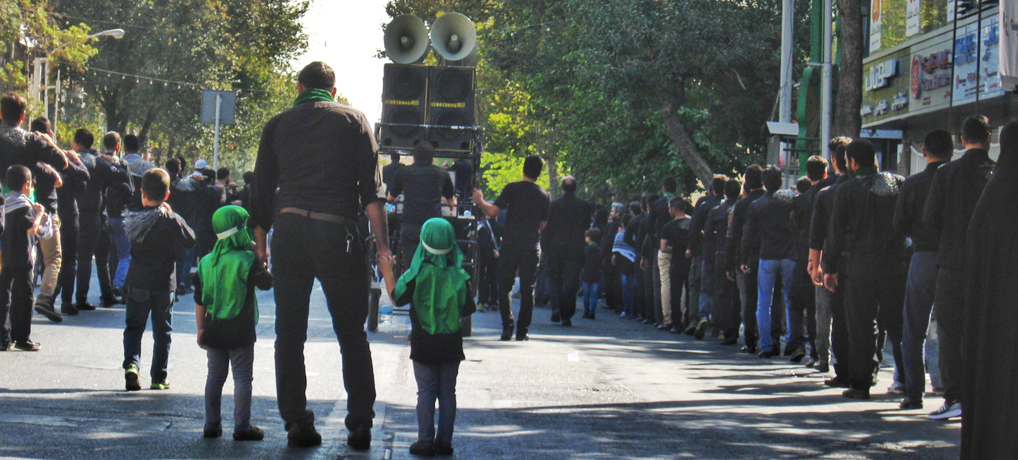 Moharram is a month during which Iranians and other Shia Muslims commemorate the death of Imam Hossein. The mourning reaches its culmination at Ashura, the tenth day of Moharram. I have already written about Ashura in Iran and mourning ceremonies organized on this occasion here and here. During several years I`ve been living in Iran, I have attended quite a number of ceremonies in different parts of Tehran (there are still areas uncovered though). Some attract hundreds of people, while others are attended only by locals.
However, many foreigners hesitate to go out on the day of Ashura which is the culmination of Moharram mourning ceremonies. Maybe, they are afraid of Iranians getting too emotional and causing them a trouble. Or maybe, they are just not sure if it is appropriate for foreigners to take part in such ceremonies and what behavior will be appropriate in this situation. If you feel the same, I can tell you just one thing – watching Ashura ceremonies can be the best thing that happens to you in Iran. It`s so captivating, emotional, extraordinary and amazing that it would really be a pity to miss it!
What to Expect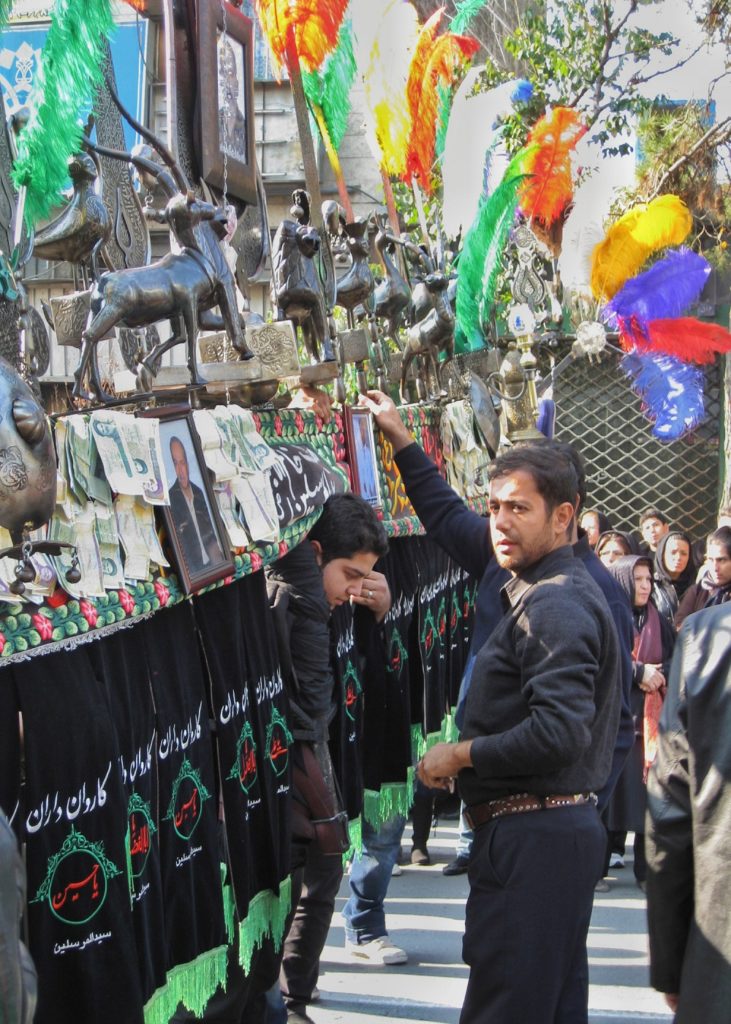 Generally, all mourning processions are similar. All of them have basic elements which include: boys carrying flags; an alam (a decorated, heavy, metal thing in various sizes symbolizing a war sign raised in support of Imam Hossein) carried by a single (!) man or boy; a group of people symbolically beating themselves with chains (zanjir-zani) and a man declaiming nouheh (a poem or a speech about Karbala tragedy) broadcasted via huge speaker and accompanied by drums.
NOTE: On the Internet you might have seen photos of people covered with blood and beating themselves (children included) with knives. You will never see it in Iran. All ceremonies (well, I`m not being honest with you – animal sacrifices right in the middle of the street still take place even in Tehran), so most ceremonies do not show any violence and have merely symbolic purpose.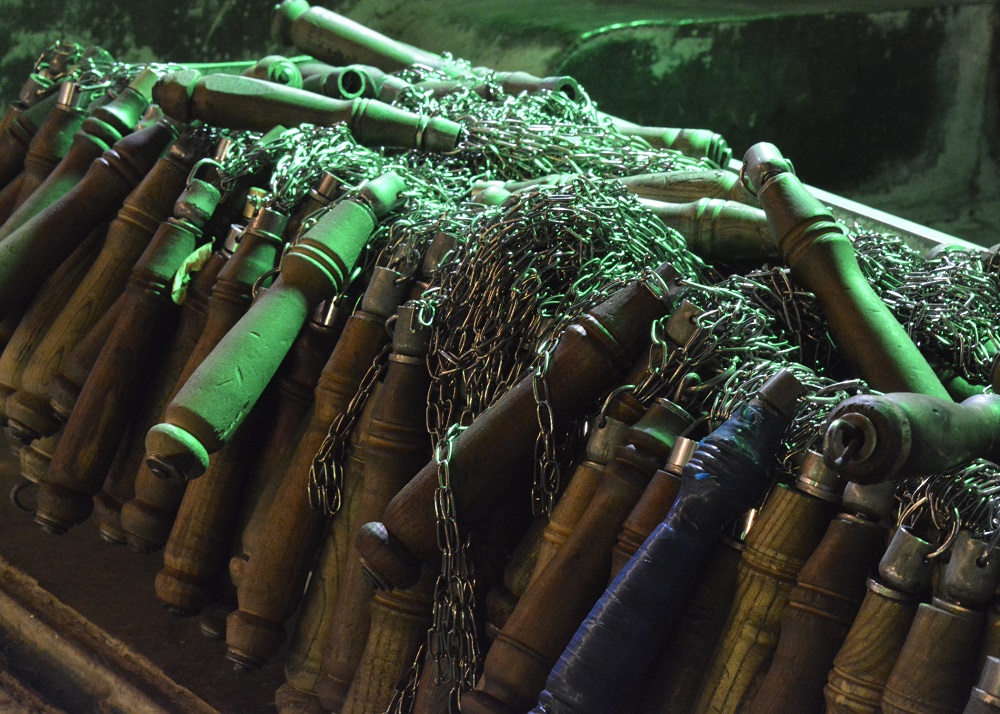 If you happen to be in Tehran, then you might need this guide to find the best place to observe Ashura ceremonies. Unfortunately, there are not many sources about it on the web and most locals you`ll meet are not big fans of such ceremonies. It took years for me to gather this information and personally visit all of these places on Ashura. So it was important for me to write a guide for those like myself so that you could get the best out of this experience. So put on your darkest outfit, grab your camera and head to one of these places!
5. Namjoo Street/ Mostafa Khomeini Street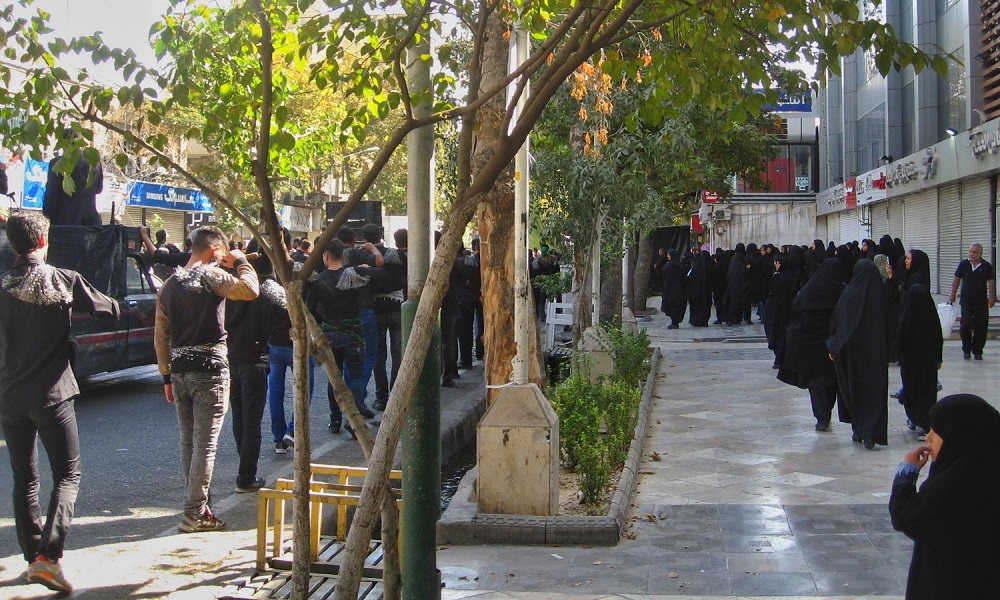 If you think you`ll feel uncomfortable in a crowd, you could go to less crowded places. On this day you can actually find mourning processions at almost every corner, but it will be a good idea to go to the streets surrounding the places of main Ashura events.
You won`t see many of alams (metal constructions carried in front of the procession) here. But still they are quite impressive. Also, there are a couple of  pedestrian overpasses which are good spots for observation. Moreover, you`ll get enough nazri snacks and drinks to keep you there till noon. (If the word nazri doesn`t ring a bell to you, check out my blogpost on nazri food). Sometimes it pays to follow one group to see where it will take you.
Mostafa Khomeini Street is easily reachable from Baharestan Square (and the same-name metro station), Namjoo Street is really close to Imam Hossein Square and you can probably cover both of them in one day.
4. Tajrish Square
Tajrish is one of the main squares in Tehran, and naturally, it becomes one of the busiest points in north Tehran for mourning ceremonies on the day of Ashura. However, there is nothing special about it – you will see the standard mourning rituals over there. Actually, what I have figured out about Ashura is that the more you go to the south of Tehran, the more elaborate and splendid is the procession. But if you are staying/living in north Tehran, Tajrish is a good place to watch Ashura ceremony.
3. Tehran Grand Bazaar
Intrigued already? Then go to Tehran Grand Bazaar and take one of its lanes to see similar processions. Just be careful – all shops at the bazaar are closed for Ashura and if you go alone too far, you might see suspicious men hanging out in empty lanes of the bazaar. But you`ll be fine if you just join the procession.
However, many people come to Tehran Grand Bazaar to witness another tradition – setting a tent on fire. There is a story behind it: after Imam Hossein and his comrades had been killed by Yazid`s army, their tents were set on fire. The tent is put up on Panzdah-e Khordad Square, and people start taking the best viewpoints 2-3 hours beforehand (the ceremony itself starts at around 12-1pm). To be honest, I haven`t seen it even once – I felt it wasn`t worth it to miss on all those processions for that.
2. Imam Hossein Square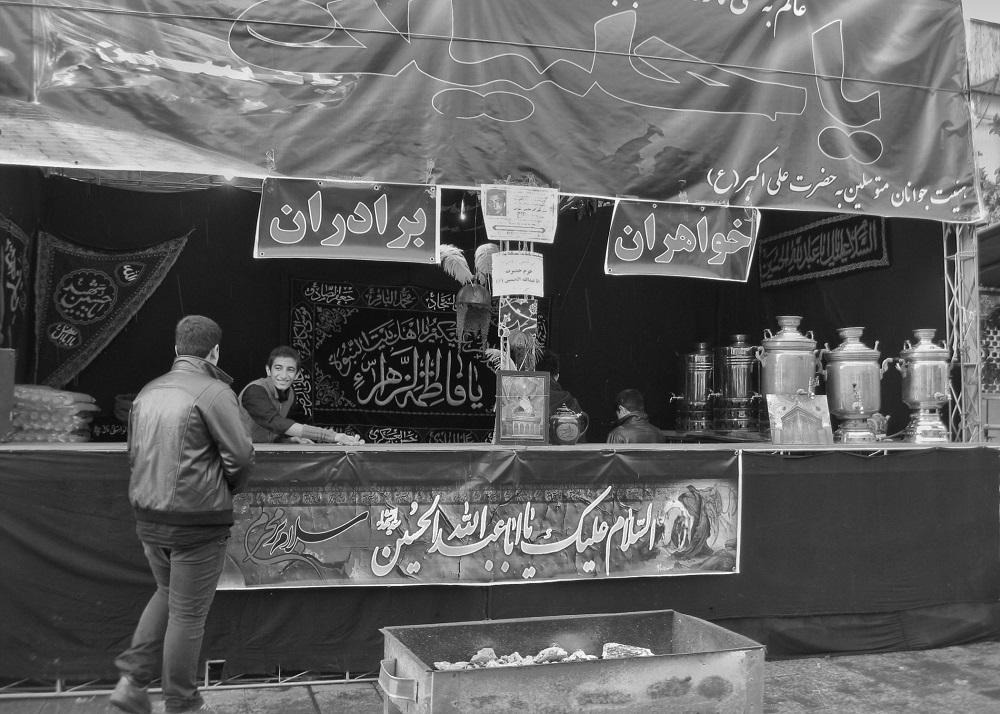 Obviously, the square named after Imam Hossein must be the main venue for Ashura ceremonies. However, the year we went there, it was far from busy. But maybe it was the rain`s fault, and things have improved with the weather. You will see 'burning the tent' ritual here which takes place in late afternoon. Also, around noon there is a big procession of mourners with alams passing in the beginning of Enghelab Street. Got bored at Imam Hossein Square? Head to Namjoo Street for more.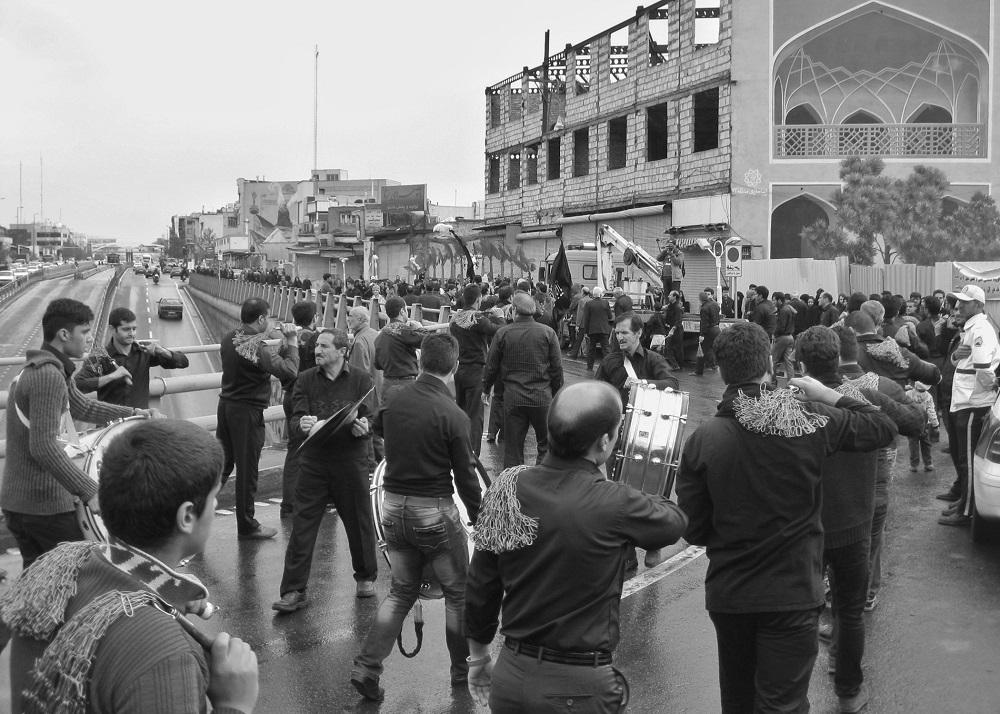 1. S Rudaki Street (better known as Salsabil Street)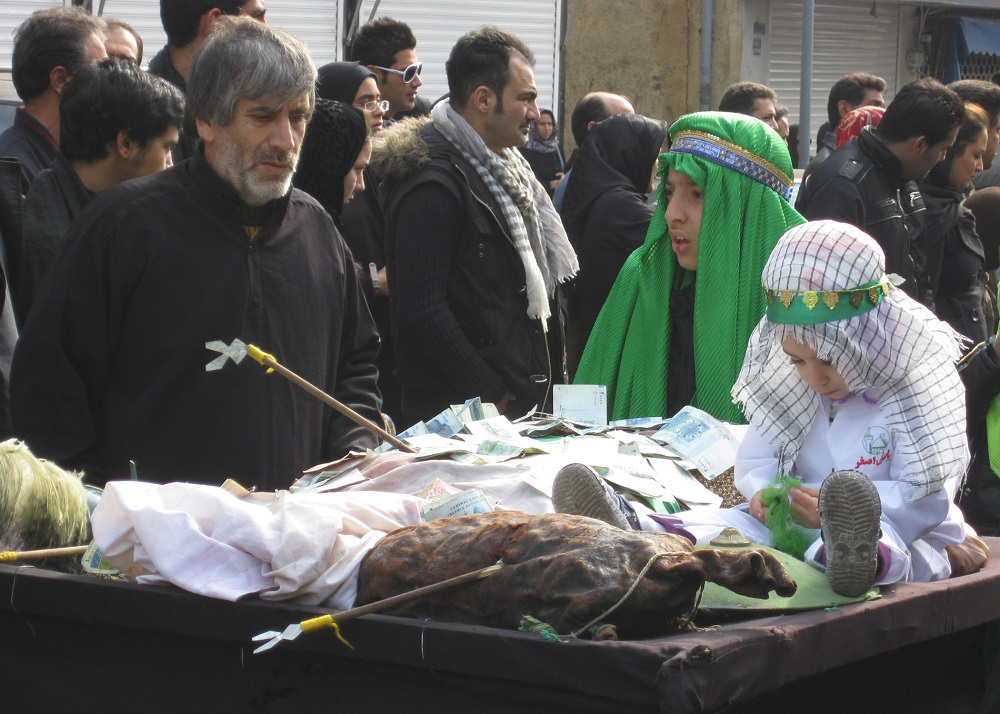 The mourning procession in Salsabil Street is the most spectacular one in whole Tehran. People taking part in the procession wear costumes of historical figures connected to the death of Imam Hossein like his comrades, women trapped by the enemy, Imam Hossein`s baby son who was cruelly killed (and yes, there is a real baby boy in the procession). There is even a Christian monk who became Muslim after he found out about Imam Hossein`s death. And of course, no procession is complete without Imam Hossein himself (wearing green and with the face covered with a cloth) and Shemr who is responsible for his death (wearing red). The scene is completed by a huge number of alams which come one after another, zanjir-zani and even camels (giving children a ride)! My tip: pause at any crossing – when two alams meet, they bow to each other with respect which is very impressive taking into account the weight of alams.
Salsabil Street can be easily reached via Navvab metro station, head to S Rudaki Street and then down the street until you see first processions. The best time to arrive is probably 11 am.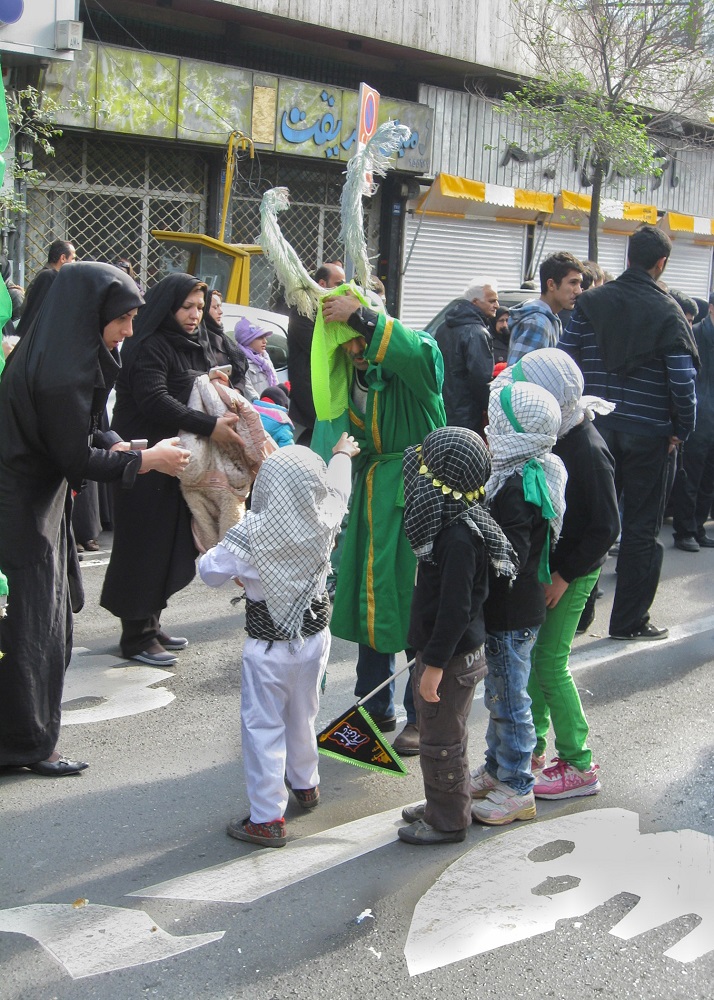 * * * * *
Hope, you`ve found this guide useful and will make the most out of your stay in Tehran for Ashura! Spotted a better place for observing Ashura ceremony? Have any questions or tips? Don`t hesitate a minute to write them in the comments!
You can also keep in touch with me on Instagram!