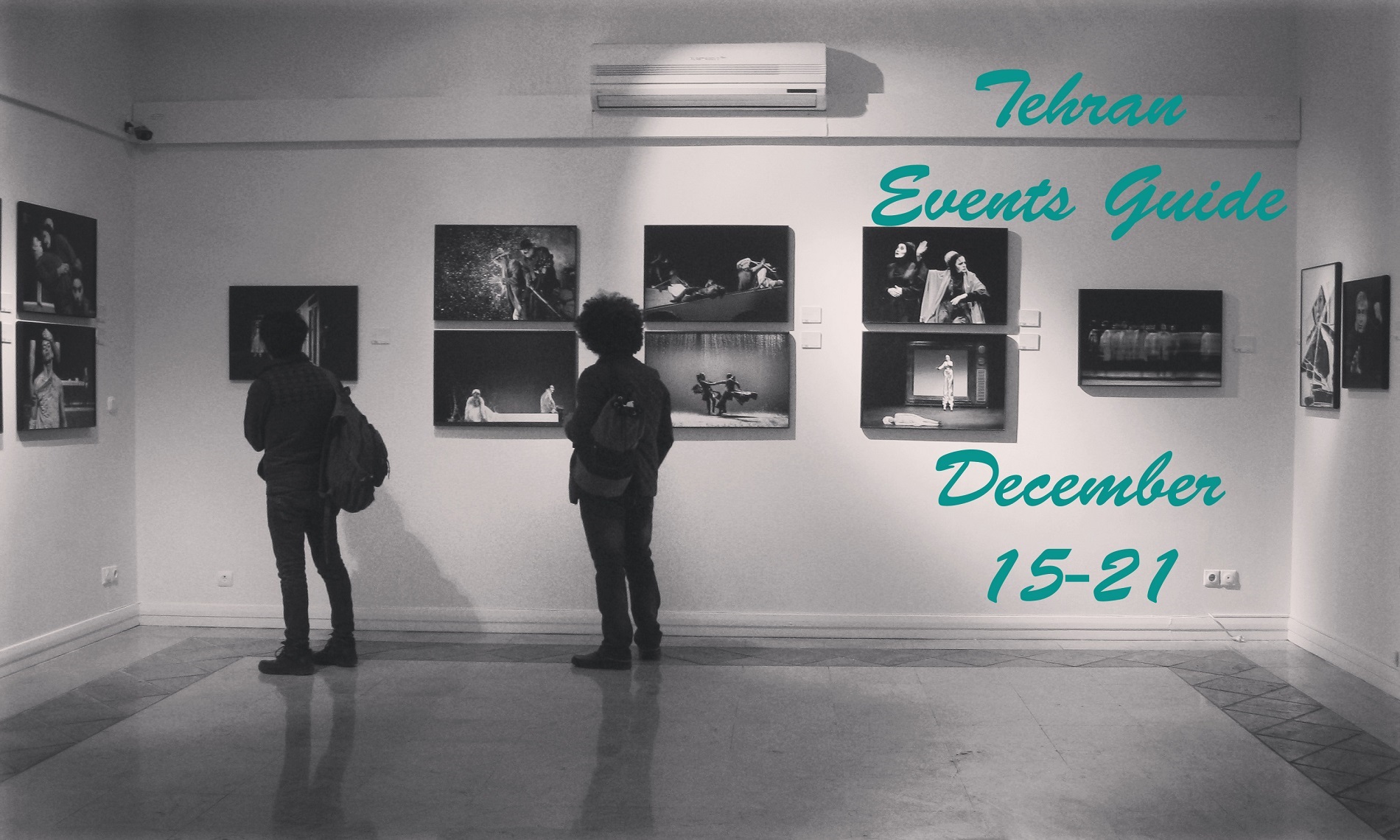 Tehran Events Guide: December 15-21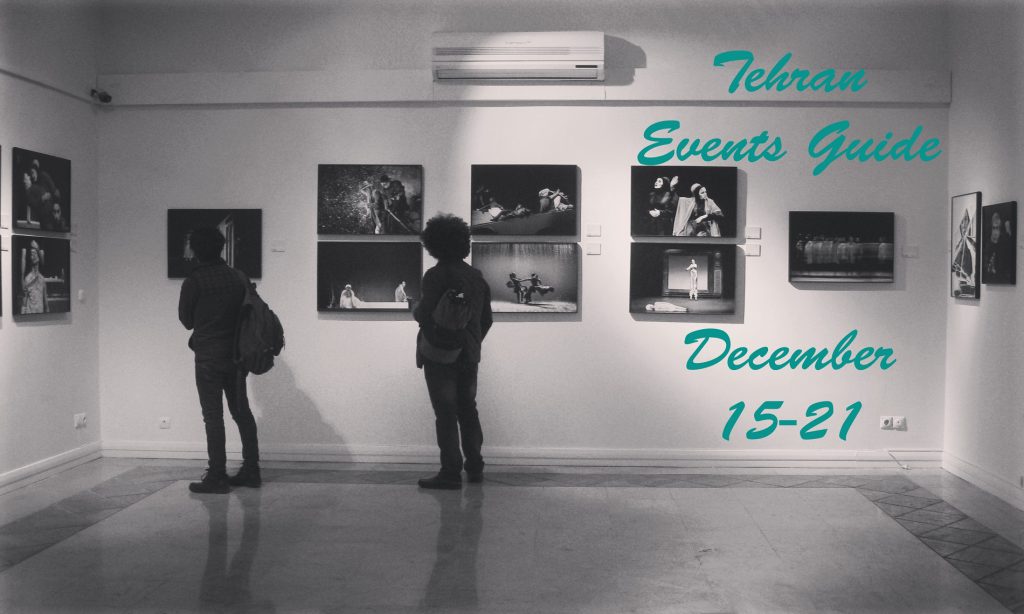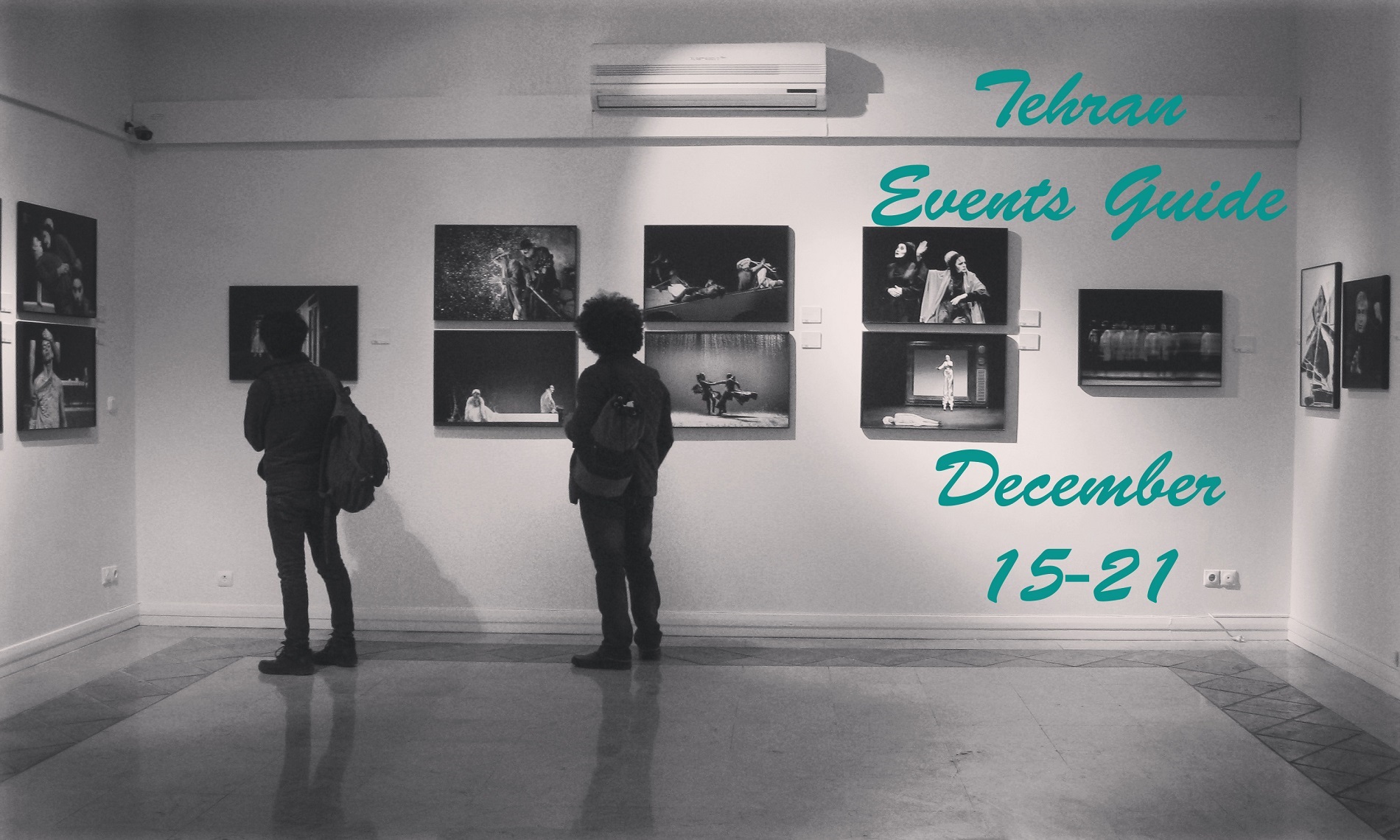 In Tehran Events Guide I`m introducing exhibitions, movies (in English, of course), concerts, festivals and other happenings that might interest you so that you won`t have to check multiple websites to decide where to go at the weekend! Tehran doesn`t have night life, but it doesn`t mean there is nothing to do here! So get ready to go out this weekend!

Featured event


On Tuesday, December 20, Iranians will spend a beautiful and pretty old tradition (oh yeah, 7000 years does sound old! ????) called Yalda Night which is closely connected to nature – it`s Winter solstice, or the longest night of the year in other words. Not being an official holiday, for Iranians it`s just another reason to get together with their families or friends and spend some nice time with them. Read about what else to do on Yalda Night in my more elaborate blog post on Yalda Night which is coming soon! Stay tuned!
Art Galleries

⇒ 10 Days with Iranian Photographers is still on and will last till December 18. So hurry up not to miss it! The main venue is going to be Iranian Artists Forum, but special events will be held at Arasbaran Cultural Center, Maryam Gallery and Photography Museum as well. 

The galleries of Iranian Artists Forum will be open to the visitors every day from 1 till 8 pm. You will see different kinds of photography on display such as nature, theater or film photography. Personally, I couldn`t get enough of the photos of Iranian deserts! A special hall is dedicated to the days of the Iranian revolution as well. 

Tip for DSLR cameras` owners: Don`t miss the opportunity to have your lens cleaned up and camera checked by professionals in the end of the right corridor on the first floor!

              Address: North Moosavi St, Taleghani St, Tehran


⇒ In Memory of Iraj Zand – Group Painting/ Sculpture/ Photo Exhibition at Haft Samar Art Gallery (till December 21)
             Address: No.8, 5th Alley, Kooh-e Noor St, Motahari St, Tehran

      Iraj Zand was a prominent Iranian artist and sculptor whose works have been exhibited worldwide.

⇒ The SOBs! – Solo Caricature Exhibition of Bozorgmehr Hosseinpour`s works at Silk Road Gallery (on display till December 19)

           Address: No.103, Lavasani St (Farmanieh), Tehran
           Open: Sun thru Wed 3-7pm, Thurs & Fri 4-8pm

⇒ Jazeh Tabatabaee Painting and Sculpture Exhibition at Shahrivar Gallery (on display till Dec.23)
          Address: No.9, Hormoz De, North Khazar St, Elahieh, Tehran

     Jazeh Tabatabaee is a renowned Iranian sculptor and artist who was the founder of the first art gallery in Iran. His works can be found in museums and private collections all over the world.

⇒ Iranian and Arab Modern Art Exhibition at Tehran Museum of Contemporary Art will be on display till December 23.

          Address: near Laleh Park, North Kargar St, Tehran
          Open: 10 am-6pm Sunday-Thursday, 3-6 pm Friday 


And three exhibition openings on Friday

⇛ Immortality Poniard: Group Photo Exhibition at Arte Gallery (till December 25)
           Address: No.3, 12-metri-e dovvom, 20-metri Golestan, Alikhani Blvd, Sheikh Bahaee Hwy, Molla Sadra St, Vanak
           Open: Sunday through Friday 4-8 pm

⇛ Madi: Solo Photo Exhibition at Silk Road Gallery (till December 26)
           Address: No.210 (Techno Ajor Bldg), between Vesal and Ghods St, Keshavarz Blvd
           Open: Sunday through Friday 4-8 pm

Hashem Shakeri presents this lengthy personal project documenting his grandmother's life from the cradle to the grave (1924-2016) as a historical narrative.
His grandmother, Madi, faced many difficulties in her turbulent life. In her later years she lost her ability to speak after a stroke and then contracted Alzheimer's. Yet the important point is that she never gave up, her spirit could not be broken and she remained full of hope and love until her final day. Shakeri documents Madi's final 8 years as well as showing us his own evolution and path of discovery as we witness this experience through his photographs. (Silk Road Gallery)
⇛ Endless Stories: Solo Painting Exhibition by Kambiz Derambakhsh at Seyhoon Art Gallery (till December 28)
           Address: No.11, 4th St, Vozara St, 
           Open: Saturday, Sunday, Tuesday thru Thursday 11am-7pm, Friday 4-8pm



Concerts

♪ Get yourself into festive mood at Hamid Hami`s Yalda Concert. This Iranian pop singer will perform at Vahdat Hall on Monday and Tuesday at 9.30 pm.

♪ Door Concert: Iranian musicians Makan Ashgovari and Amir Saremi will perform mixed genre music at their concert at Azadi Tower on December 15 and 16. Good opportunity to take a look at Azadi Tower from inside!

          When? December 15-16 at 8pm
          Where? Underground floor of Azadi Tower, Azadi Sq


♪ Pop-rock Kaveh Doulatnia Band will perform at Eyvan-e Shams on Thursday.

          When? December 15 at 8pm
          Where? Eyvan-e Shams, Shahid Gomnam (Jalal Al-e Ahmad) Hwy, Kordestan crossing

♪ Enjoy Iranian traditional music with Shakhoshin Ensemble at their concert at Niavaran Cultural Center.

          When? December 19 at 8pm
          Where? Niavaran Cultural Center, opposite Niavaran Park, Pasdaran St

♪ Raphael Minaskanian`s concert will be a good choice for classical music lovers.

          When? December 17 at 3pm
          Where? Vahdat Hall, Shahriyar St, Hafez St


NOTE: Tickets for the concerts can be purchased online at www.tiwall.com. 


Movies


Those willing to spend an evening watching a brand-new Hollywood movie or a good European film, check out my Guide to the Cinematheques in Tehran. 


                                            ******************************

Tell me what YOU are planning for Yalda Night! Are you going out with your friends? Or do you fancy to gather up with your family at home?

Personally, I haven`t fixed my plans for Yalda Night, so if you have any recommendations, I will be more than happy to hear them in the comments! ????????????